How to Find Good Wine in Paris and Have it Delivered to Your Door
05/11/2020
Wine is a way of life in France, and Paris is the central city of the French wine culture. Even in Covid-19 era, you can still enjoy your best wine.

The Parisian experience is not complete without a good wine. But how do you go about getting quality wine in Paris? Considering that the Covid-19 outbreak has reduced the public sale of wines drastically, what other way can one exploit to get an excellent wine to enjoy in Paris?
With government restrictions and curfew in place, finding a good wine for personal consumption can be daunting. When you're far away from home or confined to the comfort of your home, in the war against Covid, it can be frustrating to get the best from your wine tasting.
But you can end your frustration here and now. Here are some ways you can find good wine, and it delivers to your door, whether you are living in Paris or not.
Go Digital With Dedicated Online-Based Wine Sellers.
Yes. There are dedicated wine cellars online that are ready to meet your demand for fine wine. All you need is just a simple internet connection, some two-three steps, and the best wine of your dreams would be in your doors in a couple of days (assuming you're living outside of Paris), and a matter of hours, if you're in Paris presently.
Below are some of the companies that deliver wines straight up to your doorsteps.
La Belle Vie
La Belle Vie is one of the most reliable online grocery stores you can find. Yes, they don't measure in size and selection like some of the famous supermarkets around, but who cares? They make up for that with a remarkable delivery window—two hours to be precise.
They sell top-quality products that you won't easily find elsewhere. Examples are their American, Moroccan, Japanese goodies product from their global marketplace.
We can go on infinito stating their products.
But, what really caught our attention is their catalog of wines from all over the world and the fact that they deliver to your door.
You can use them as a reliable "gift service" to order fancy wines, bubbles, or teas for your home or friends and loved ones. La Belle Vie has been very helpful in that regard during this Covid-19 era of isolation and restrictions when friends or loved ones are celebrating anniversary/birthdays solo. La Belle Vie door delivery service brings some cheers to their homes.
Visit the store, signup, and go through their wine listings. Follow the steps you see displayed on your dashboard to complete your order after finding what you're looking for. Expect your order within 2 hours.
The delivery charge ranges from 3.90 – 4.00 Euros.
They deliver on Sunday, but that is after 4 pm.
Come back and thank us later.
Carrefour Express
Here is another grocery store that comes in handy if you want some bottles of fine wines delivered to your doorsteps.
Carrefour is a chain grocery business with multiple stores across Paris. They are known to be one of the best in their line of business.
While their average delivery fee is on the high side, plus there are days they don't do deliveries, we love Carrefour for their simplicity. It is the most comfortable wine delivery service in and out of Paris. Within one hour, your wine should be knocking on your door.
However, their wine selection is limited, but you can bet your last cent on finding some of the best wine brands in there.
Why wait? Hit the website and start placing your order now. You will see the sample prices listed, and they charge an average sum of 4-5 Euros for delivery.
You may also get your wine delivered on a Sunday, but that will depend on your location and the shop nearest to it.
KOL –Strictly Alcohol/Wine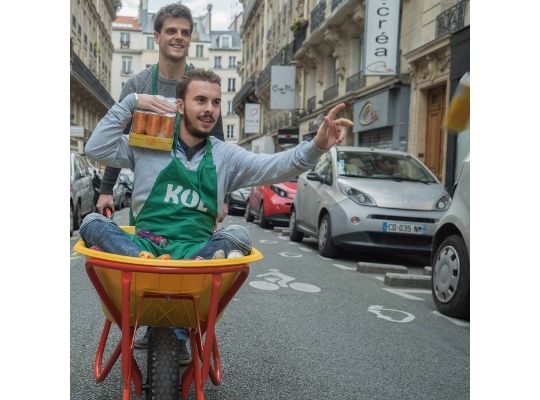 KOL is a specialist in the delivery of alcohol/wine of all types. They are far away from being just a 2.0 wine seller. You can easily find some of the best bottles you won't find within the shops in your locality at KOL.
KOL offers wine, spirits, and beverages of all types. While I love their engaging offerings and user-friendly interface, it's the one hour delivery time that has held me hostage on this site.
If you're living in Paris, Issy, Boulogne, Malakoff, and a few other landmarks, you're 90-100 percent sure of getting your favourite wine delivered to your door.
For those who live outside of Paris, KOL will deliver your ordered wine straight to your doorsteps within 48 or 72 hours at most.
Wine prices vary according to brands and listings.
The delivery charge ranges from 3.00 – 4.00 Euros.
They deliver on Sundays, but that would be after 4.pm.
Les Grappes

I dare say this is the best platform for anyone to find the perfect wine and deliver it to their doorsteps.
Les Grappes is a wine community (the first of its kind) that connects winemakers, independent growers, and consumers to a first-hand wine trading experience.
The good thing is that through the Les Grappes medium, you can build up your network through your contacts, friends, winemakers, and experts listed on the Les Grappes website so others can choose wines according to descriptions, certified reviews, and comments.
Whether you're a connoisseur or a wine novice, buying a good bottle of wine isn't a herculean task anymore. With Les Grappes, you can buy directly from the independent winemakers and have it delivered to your doorsteps. Thanks to the genuine reviews and recommendations from experts and real-time consumers in the community.
And it gets better.
You don't have to do the hard work of finding the best wine; Les Grappes will do that for you. You can ask whatever questions you want, and you'll get positive feedback that addresses your need.
Other up to or above six bottles and get it delivered to you for FREE! Yes, FREE!
Les Grappes deliver within five working days, and you are guaranteed the best always from their gigantic list of 900 French winemakers at your service from all parts of France.
Conclusion
You can still find the best wine and have it delivered to your doorsteps whether Covid-19 likes it or not.
While La Belle Vie stands as the best in its line of groceries and wines, Carrefour beat the pack in terms of simplicity. But, when you take out the groceries, KOL stands out for its world of wines.
But...
Nothing compares to when you can connect directly with the growers and makers of the wine—that's where Les Grappes towers above all on this list.
There you have it; how to find good wine in Paris and get it delivered to your door.
GetDrinksDelivered.com
Get Drinks Delivered is an online platform that helps consumers see who's delivering them and where they can go for store pick up. This is where you are able to buy directly from the wineries, breweries, distilleries, bottleshops, and restaurants.