10 Biggest Wineries In France
10/11/2020
Wherever the location or region, a French winery is definitely one that you would like to see whether you enjoy a good glass of wine or not. 

There are many types of grapes available in France, including but not exclusive to pinot noir, merlot, cabernet sauvignon, chardonnay etc. These are either combined or used separately to produce the over 3000 fine wine variants available in the country today.
France not only satisfies her citizens with the best of the liquid gold (often accompanied with great food to partner), it is also involved in an active international wine business where they meet the needs of wine drinkers all around the world – who want to have sips of the quality invested in French fine wines.
Needless to say, France is not only on the list of top wine producers, it is also one of the highest wine exporters in the world. The demand for the wines made in France by other countries is so high that in 2017, President Emmanuel Macron had to finally open the borders of his wine to ensure the importation of foreign wine brands into France to continually satisfy the French wine-drinking citizens.
The globalist decision by the French president served to open up one of the most conservative wine industries in the world and now, along with the locally-made French wines, some other foreign wine brands are also sold in stores scattered all around the country.
Macron not only boosted the economy with his decision, he also was able to consolidate his efforts by promoting French wine through tourism and advertisement bundles aimed at getting more foreigners to come have a taste of the fine wine and living experience in France.
The high demand for good French wine, even in periods of low yield, is one of the few "negatives" concerned with France's wine industry. Apart from that, it is doing quite well because any respectable wine aficionado will want to have good French wine in abundance sitting in his wine shelves or cellars.
In 2016 alone, more than 10 million tourists found their way to France in order to get their hands on a bottle or two of the liquid gold, attracting more than £4.6 billion in wine revenue for the French government.
France has many wineries scattered all around the country regions and this should come as no surprise to you because they do have a high demand to satisfy. Each wine region produces wine depending the particular grape variety (or varieties) that is grown there.
Bordeaux is the most famous wine region in France known to travelers all around the world and it is a popular destination for red wines. Other regions include Provence, which is popularly known for its rosé wines, and Champagne, which is famous for its sparkling white wines.
Wherever the location or region, a French winery is definitely one that you would like to see whether you enjoy a good glass of wine or not.
Now let's look at 10 of the biggest wineries in France –
Domaine Virgile Joly
Domaine Virgile Joly is a vineyard that's situated at St Saturnin de Lucian right at the foot of the Larzac plains. This vineyard/winery is owned by a family who is determined to use traditional methods of farming and cultivation to make their wines as natural and chemical-free as possibly.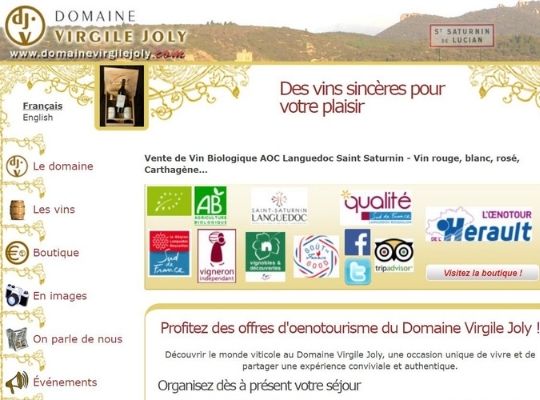 The family grows a variety of grapes in their vineyard for wine-making, including the Syrah grapes for red wine, the Cinsault grapes for red wine and the Grenache blanc grapes for white wine. All of these grapes and wines (and more) serve to add for the winery's collection of fine wine.
Also, due to the new French culture of wine tourism, Domaine Virgile Joly now holds a wine and film night in August every year for tourists to taste good wine, eat good food, and enjoy a good movie all in the village square.
You can visit their website for more information
Domaine Cazes
Domaine Cazes is the largest biodynamic winery in all of France. The establishment covers more than 220 hectares of land in the PyrénéesOrientales. In the year 1895, Domaine Cazes was established by Michel Cazes producing more than 10 new variants of wine each year.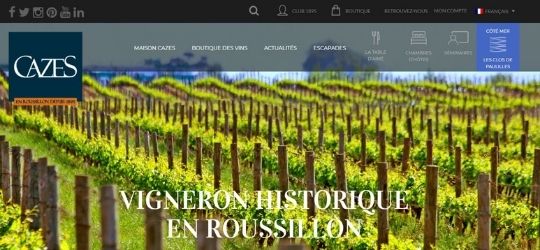 Today, this winery is under the care of Michel Cazes's great grandsons.
For more information on this winery, check out their website
Domaine Maltoff
This winery specializes in producing the red wines Burgundy is famous for like Chardonnay, Pinot Noir etc. And there are also wine-tasting events organized here that consists of red, white and rosé wines.
You can find out more about them on their website
VignobleKlur
The VignobleKlur winery has been in the business of making fine French wine since the 17th century but it was in 1999 that it was officially established.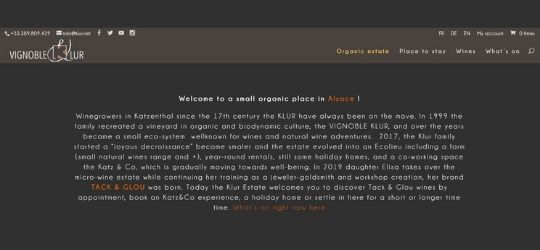 With its present location in the village of Katzenthal, right in the middle of Alsace, VignobleKlur centres its operation on natural and efficient cultivation methods designed to make fine wine like the Wineck-Schlossberg white wine and Steinacker sweet wines.
Check out their website for more information
Château Thieuley
Established in 1950 by the grandfather of Marie and Sylvie Courselle, this winery is in the business of making wine with outstanding taste and quality. In other to achieve this, much research is done by the management to find out and implement the best methods.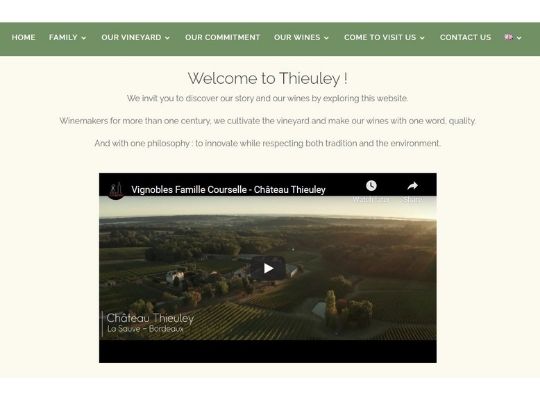 Their variety of cultivates grapes include the Sauvignon Blanc for white wine, and the Merlot used in making red wines.
You can find out more about this winery on their official website
Domaine de Mourchon
Domaine de Mourchon produces a wide range of French wine including a brand of white wine, six brands of red wine, and one brand of rosé wine.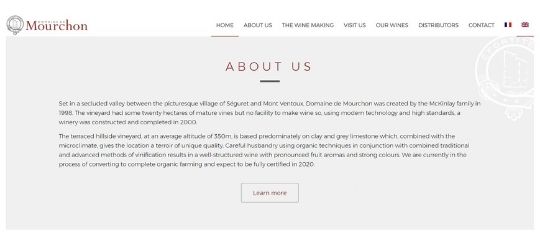 The estate, situated at the top of the small village of Séguret, was bought in 1998 by Walter McKinlay, businessman from Britain.
You can learn more about Domaine de Mourchon on their website
Girard-Madoux
This family-owned winery is located in the foothills of the Alpines foothills. It offers a brilliant array of fine wines including reds, whites and rosé.
Along with the wines are meals which are often served to customers for consumption.
To learn more about this winery, visit their website.
Domaine de la Croix
Domaine de la Croix is one of the prominent wineries located in the Provence region. The main production strength of this winery is directed at making excellent rosés with its vineyard that's over 100 hectares wide.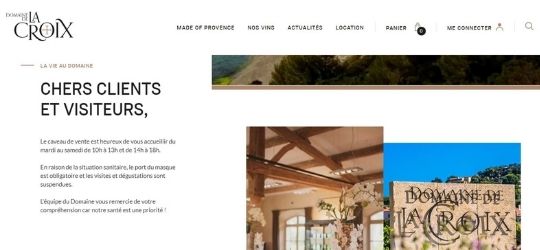 Other grape and wine types are also produced in Domaine de la Croix. And the vineyard is often open for visits from the outside world and live events.
You can learn more about this winery by visiting those website
Champagne Tarlant
Champagne Tarlant has been in the business of making quality sparkling Champagne since the year 1687.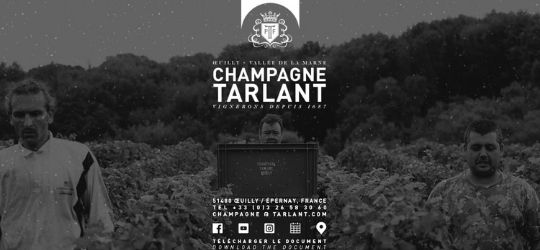 The Tarlant family uses Pinot Noir, Petit Meslier, Chardonnay and several other grape varieties to make sure that their wines are top-notch. Their wine business is based in Oeuilly.
Caves Jean Bourdy
Caves Jean Bourdy is an awesome biodynamic winery that has its address in Arlay. The family which owns this winery has managed it for more than fifteen generations.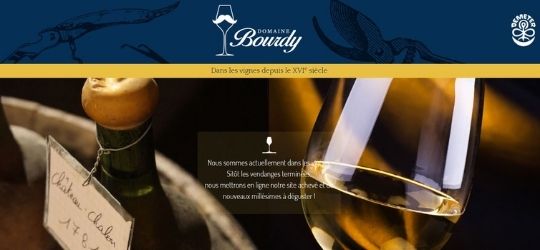 There is also a family wine museum in Caves Jean Bourdy containing excellent vintages and honourable mentions too, as far as fine wine is concerned.
Find out more about this winery at their official website
Eating good food with great-tasteful wine to wash it down is an active section of the culture in France. You can hardly find a French meal where cheese and wine are not served as a necessity.
The reputation of the French, when it comes to the superiority and excellence of their wines is one that precedes them. Most people, wine-lovers or not, are well aware of the efficacy of French wines. Therefore, for a long time now, France has cemented in its place in history as one of the top wine-producing countries in the world.