Hidden Wine Bars of Paris
19/11/2020
Paris's hidden wine bars are the expressions of the city-capital in its real, unpretentious state because the leisure culture of the French can be observed here accurately, away from the intrusive crowds of tourists.

(Header image credit: Le Bar-Bibliothèque)
Some of the best things in life are often kept as secrets. And one of those secrets are the hidden wine bars of Paris. Already, drinking great French wine in Paris, the capital, feels like a scene straight out of a terrific spy movie – classy, magical, and quite memorable – But these wine bars are something more, something even more magical.
In French, these hidden wine bars are called bars caches, and they are a well-kept secret that only true Parisians and a few visitors know. If you have ever visited one, consider yourself lucky, because you are one in a million. It's very possible for you to walk straight past these inconspicuous wine bars due to how well concealed they are. Without precious information, it's hard to consider them wine bars from the outside because they don't look like the typical establishment that serves great French wine.
But don't be deceived.
Wine experience at these hidden wine bars are often as exciting as the popular destinations, perhaps even more… Paris's hidden wine bars are the expressions of the city-capital in its real, unpretentious state because the leisure culture of the French can be observed here accurately, away from the intrusive crowds of tourists.
There are many great wine bars to enjoy quality wines that can only be gotten in the world-famous city of Paris, and a great deal more establishments (that aren't officially or solely known as wine bars) where good wine can still be savored – whether it's one of the al fresco apéritif places or a liberal night club down the road somewhere.
However, there are some Parisian wine bars that are off the conventional path taken by tourists and most members of the public. They are not as loud and showy as the ones you've probably heard of and that is for a good reason; these secret wine-retailing institutions are not exactly for the general public, they are for those people that really appreciate the simplicity of sipping wine in a cool environment without all the pomp and candor that comes with the other well-known wine bars.
These bars are often where natural French wine, with no additives and preservatives, is served.
Usually, tourists are directed well away from these bars because they are where the locals go to enjoy their wine without any unnecessary disturbance from the outside world that often preys upon and intrudes in the wine bars. So if you are a visitor in the French capital, you will not find these places easily. It will take some time and effort on your part, be warned.
We've done the work here to help you find them easily, so don't be too alarmed. Therefore, without further ado, let us now take a look at the hidden wine bars of Paris.
LE COMPTOIR GÉNÉRAL
The name of this wine bar "Le Comptoir Général" when translated to English means 'the general bar'; this comes as no surprise at all considering the common, simple and vintage furniture used in the business. One curious thing about this place is that the wooden bar is shaped like a real life shipwreck.
The drinks served here, heavily consisting of strong rum alongside the wines, are a match for the vibrant Caribbean-like decorations and exclusive scenery. Many more eye-catching things exist in the Le Comptoir Général like the vintage classroom that has been recently refurbished by the owners, rare souvenirs from African art galleries and the way the chairs and tables that look like they belong to a grandmother's sitting room.
Customers can relax here to a nice drink or they can party away on the vibrant dance-floor early in the evening till late in the night. Alicia Keys has performed on stage in this bar on one of those exciting nights, so you can be sure to expect more interesting musicians to grace the stage with eclectic performances.
The wine bar is open from 6 pm to 2 am on Mondays through to Thursday, on Friday it is open from 4 pm to 2 am, and on Saturdays and Sundays, the hidden wine bar is open from 2 pm to 2 am for customers to troop in and enjoy great wine.
You can find this establishment at No. 80 Quai de Jemmapes, 75010, Paris.
MOONSHINER
The Moonshiner may be one of the most difficult wine bars to find on this list, but it's also one of the most satisfying. It is hidden quite well behind the Da Vito, a local pizzeria that's often quite crowded with people coming in to enjoy the baked delicacies.
To get in the secret wine bar, you have to pull the handle on the big metallic door that's opposite the pizzeria entrance. Once through the door, there will be a temperature drop that would make it seem that you've entered the restaurant's cold room but don't be alarmed, the next handle right in front of you (once pulled) will lead you straight into The Moonshiner.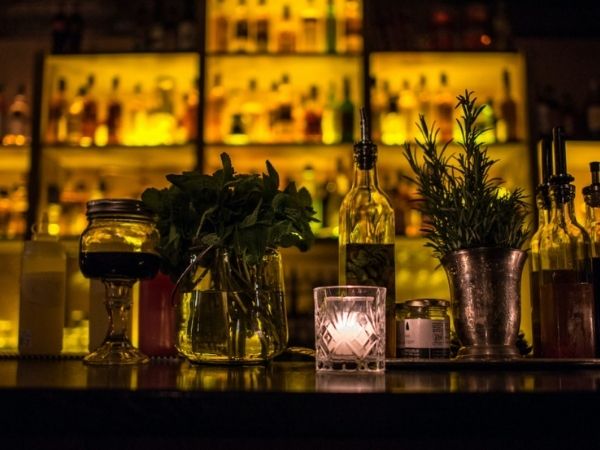 Once in this mystery bar, it would feel like you time-travelled back to the year 1930 owing to this wine bar's furnishings and decorations. Most of the furniture used in the bar are fashioned from one gigantic wood log brought in by the owners in one day.
You can find this establishment at No. 5 Rue Sedaine, 75011, Paris. The moonshiner is open every day from 6 pm to 2 am.
LE BAR-BIBLIOTHÈQUE À SAINT JAMES PARIS
Le Bar-Bibliothèque is an incredible wine bar secreted away in a magnificent hotel where it takes its residence in a 19th-century institution where study and research was previously done. The books are still there, all over the wooden walls of this French wine bar, giving it a sophisticated appearance you are sure to appreciate.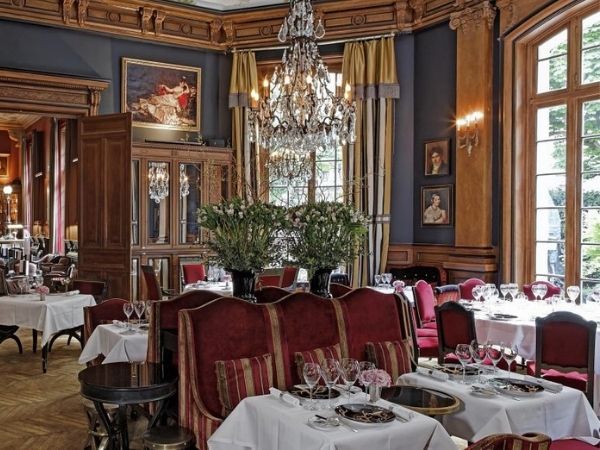 There are several great choices on the drinks menu but we recommend that you order the TerreSauvage at least once – it's a drink made by combining the reductions of mescal, beetroot and red pepper, and then topping it with tea foam.
Le Bar-Bibliothèque is open every day from 7 pm to 1 am and you can find it at No. 5 Place du Chancelier Adenauer, 75116, Paris.
LAVOMATIC
The Lavomatic is a wine bar hidden behind a washing machine. Yes, a washing machine! That should be enough to send your curiosity up the top. We bet that you're wondering if the wine tastes like detergent or something. The great news is that the curious hideaway of this wine store does not in any way affect the quality and authenticity of its French wines.
It's worth the experience.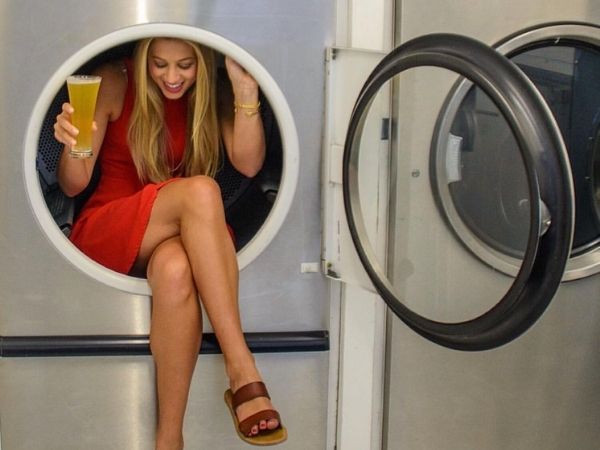 To get in, all you have to do is head to the operational laundromat at night and slide behind the right machine where you'll find a staircase once through. This staircase will lead you straight to the Lavomatic, which is like a playground-themed space for adults. You can discover and express your inner child here while also enjoying some of the great drinks displayed on the menu.
Lavomatic is open only five days in the week; Tuesdays and Wednesdays from 6 pm to 1 am, and on Thursday through to Saturday from 6 pm to 2 am. If you go there on Monday or Sunday, chances are you'll meet a Laundromat in full operation. And you better have some clothes to wash or it would be a complete waste of time.
You can find this establishment at No. 30 Rue René Boulanger, 75010, Paris.
There at least 6 more hidden wine bars like the ones mentioned above scattered all over the city. The real wine aficionados know the places in Paris where those lustful French wine brands can be found, away from the prying eyes, hands, and throats of tourists. Sometimes, the wine is so good that it just has to be kept a secret lest it becomes corrupted by certain elements of society who may not fully appreciate the golden liquid's beauty.
These hidden wine bars are often around the Northeastern part of Paris, well away from the popular tourist attractions and glamour so they won't be easy to find, but your efforts will be worth it in the end.