The Best Places to Eat and Drink in Paris
08/05/2019
Dive into a dining experience of acclaimed restaurants and taste the legendary French wines with these picks.

Paris is a city where sipping exceptional wines and enjoying delicious food is something everyone looks forward to. The City of Lights is truly a harbor for visitors who are looking for exquisite wines and lavish fare, include good food. Young and talented sommeliers are taking the bar ahead by experimenting with new ways for food and wine pairing. So, what can you expect here? Say, hundreds of Michelin-Starred restaurants, sumptuous dining spots, romantic cafes, eateries and much more. With expanding dining scenes to fit the visitors, Paris is certainly a place where people come to discover the many flavors of the world.
---

---
Here are the most thriving spots for your "time well spent" moments. Santé!
1. Etna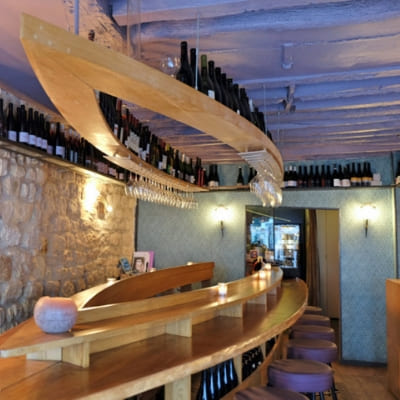 Image credit: Food In Paris
This natural wine bar near Odéon stands out in many ways; firstly it is located right in the heart of St Germain des Prés, secondly the area is famous for its tourist traps than for its wine bars and last but not the least, the wines served here are grown from organic grapes, which are processed by hands and the fermentation is done without the support of any chemical. Natural winemaking is carried out here which reveals the purest expression of both fruit and its terroir. Classy black front space with a small space done out in the woods and exposed stones makes Etna a warm and welcoming place, completed by funk music in the background. There are more than 350 different options for wine in this bar to offer, although there is no menu- so you have to trust the owner who will advise you only after carefully listening to your tastes. A selection of tasty foods (starting from 5 euros) makes a perfect match with the natural wines. You can find both savory and sweet dishes, using seasonal ingredients, and delicious choices are available as nibbles, appetizers, or for a meal. Enjoy their natural wines and quality food with a taste of 1950s Sicily, an evening at Etna will help you relax and feel at home in Paris.
Address: 33, rue Mazarine, in Saint Germain des Prés, 75006 Paris
Website: Etna
+33 1 46 34 84 52
2. Le Baron Rouge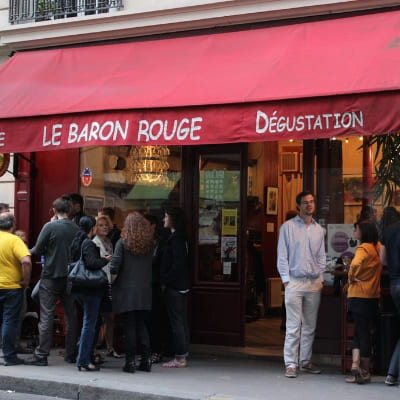 Image credit: Pear spotting
If you are hungry by strolling up at the Aligre market and looking for a reasonable place to drink wine, just come here, eat, drink and quench your thirst for good quality local vintage. Le Baron Rouge is a popular hangout place for raw seafood lovers and a pit stop for those trying to find a cheap but good glass of wine. On weekends they have fresh oysters served with a bit of lemon and a slice of french bread, you can also opt for charcuterie. The wine poured here is straight from the barrel. For your after-work drinks make sure to come early, if not, then you will be out on the pavement, along with pretty much everyone else. The ambiance has remained unchanged for many years. The welcoming staff here creates a warm atmosphere for you.
Address: 1 Rue Théophile Roussel, 75012 Paris
Website: Le Baron Rouge
+33 1 43 43 14 32
3. La Tour d'Argent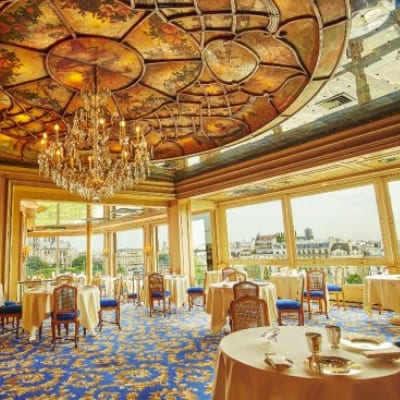 Image credit: Trip Advisor
Established in 1582, this classic Parisian restaurant is one of the oldest restaurants in Paris. The restaurant has a mighty wine cellar with 320,000 bottles of wine, some of which are rare trophies, certainly collectors' items and also some fine specimens selected from unparalleled vintages. Head Sommelier David Ridgway is a true professional, who, with his expertise will present you the perfect wine to pair with your food. There is a wine for every palate and eventuality. Because of him, Tour d'Argent has been awarded "WineSpectator Grand Award" every year since 1986. With a huge wine list to select from and a delicious dinner from the restaurant's Michelin-starred chef, this is must visit for every wine lover once in their lifetime.
Address: 17 Quai de la Tournelle, 75005 Paris
Website: Tour d'Argent
+33 1 43 54 23 31
4. Septime La Cave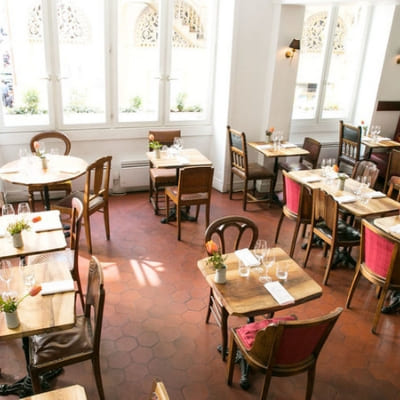 Image credit: Trip Advisor
Ever since it's opening, Septime has been on numerous go-to lists due to its great range of wine and food. The wine list emphasizes on natural wines selected by French sommeliers and the food served here is modern. At €42 you get a 4 step lunch, though wine pairing can cost you a little extra €38 if you choose to opt that. It is hard to get reservations here, so get there early to grab a seat. You can also visit Septime's sister restaurant Clamato next door if the wait is taking too long. This wine cellar is so famous, even Beyonce was there.
Address: 3 rue Basfroi, Paris 75011
Website: Septime La Cave
+33 1 43 67 14 87
5. Verjus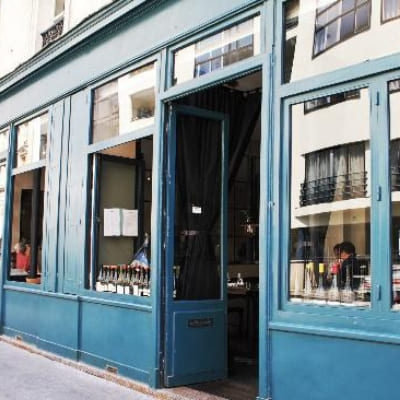 Image credit: Verjus
This restaurant is run by two Americans in Paris. It initially started as a regular underground dinner spot which they used to host in their apartment. Later, after a ton of appreciation and attention, they finally opened up this restaurant where the wines that accompany food are well chosen. You might ask why Parisians go for American food? Well for one, Verjus is located on the bustling street behind Palais Royale, secondly, the laid-back and aesthetic atmosphere accompanied with a small but good selection of wines by the glass and some very good bar snacks is something that pulls wine lovers there. This cozy spot is ideal for a date night.
Address: 52 Rue de Richelieu, 75001 Paris
Website: Verjus
+33 1 42 97 54 40
6. Frenchie Bar à Vins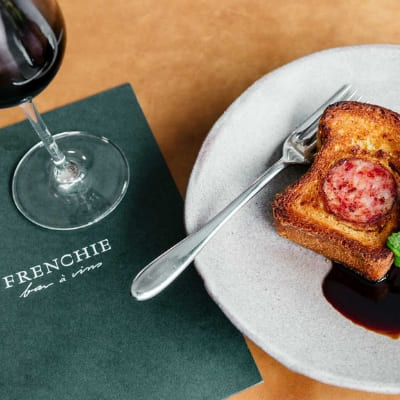 Image credit: Frenchie-bav
Frenchie Bar a Vins is located across the alley from Frenchie, a restaurant where you can expect a long wait for a reservation. If that is not what you want, come to this wine bar on the other side which is a tiny haven for fantastic wine pairings and creative small bites. Frenchie wine bar has plenty of bottles which can be accessed by any budget. Chef Greg Marchand says "one can enjoy a wide selection of wines along with tasty dishes, this is a restaurant in its own right, more free, which reflects just as much as his personality and that of his chefs." It is a place to share, taste, discuss, and meet, in short, live a true moment of conviviality while discovering products and recipes both simple and surprising. This wine bar offers a relaxed scene without the hassle of booking in advance.
5 Rue du Nil, 75002 Paris
Website: Frenchie Bar a Vins
+33 1 40 39 96 19
7. Le Baratin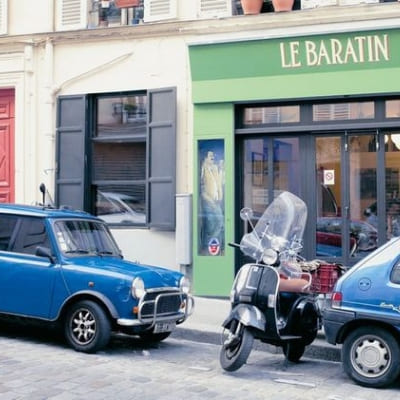 Image credit: Afar, via Pinterest
If you are looking for natural wines, home-style comfort food and if you can trek up to the lively Belleville neighborhood in the north-eastern Paris, then this is the place for you. The husband-and-wife duo has curated the wine list and remained devotees to these wines long before they became trendy. The ambiance includes artwork on the walls, chalkboard menu, and simple glassware.
Website: Le Baratin
3, rue Jouye-Rouve, Paris 75020
+33 1 43 49 39 70
8. Aux Deux Amis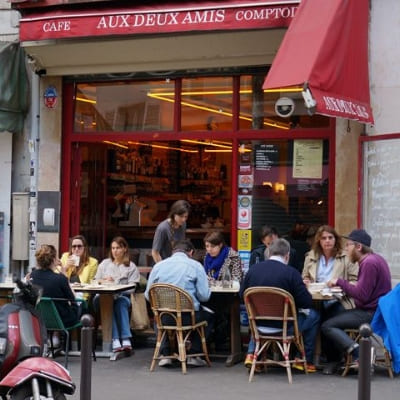 Image credit: Pinterest
If you are out late in Paris, visit this late night spot for a lively and joyful experience which has a local vibe with 70s decor, neon lighting, and a joyful and loud crowd. The wine list is exciting and the owner sources his wines directly from the producers, which means you can get affordable bottles and a chance to know the up-and-coming winemakers. You can expect charcuterie, contemporary French food with a menu that changes daily and a list of small plates.
45 rue Oberkampf, 75011 Paris
Website: Aux Deux Amis
+33 1 58 30 38 13
9. O Chateau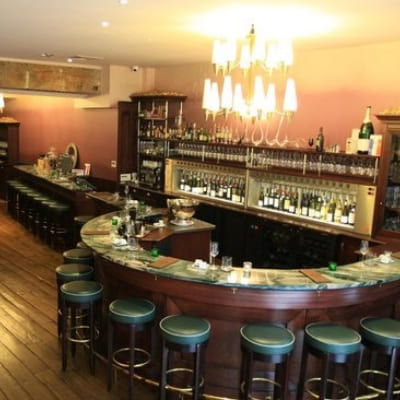 Image credit: Trip Advisor
O Chateau has been awarded as the best wine bar in Paris, Wine Spectator Awards, Best Wine List in France and many more. With over 50 wines available by the glass and more than 1,000 references on their wine list. Whether you like reds, whites or bubbles, they have it all, and to keep it fun, they change the selection every week. Food wise, they serve great platters of delicious cheese, charcuterie, and homemade seasonal dishes for a pleasant dinner. The team consists of friendly and unpretentious sommeliers that recommend the good stuff and share their passion and knowledge with you.
68 rue Jean-Jacques Rousseau 75001 Paris
Website: O Chateau
+33 1 44 73 97 80
10. Le Mary Celeste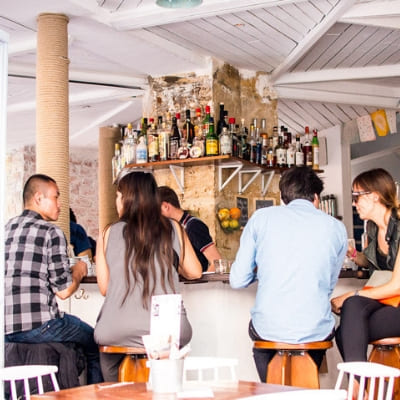 Image credit: Hip Paris
This neighborhood hotspot has become a go-to place for locals who want to relax after those busy work hours and for visitors who love to socialize with the local crowd. The oyster happy-hour isn't the only reason why this place is so popular; you can expect an intriguing list of natural wines, aperitif style cocktails, the kitchen serving Asian-inspired dishes, not to forget the subtle nautical-themed space with big windows and a large hexagonal bar. There is a cocktail menu as well which boasts a solid seasonal of balanced drinks. If you are planning to dine, reserve ahead.
1 Rue Commines, 75003 Paris
Website: Le Mary Celeste
+33 1 42 77 98 37
11. Cafe Charbon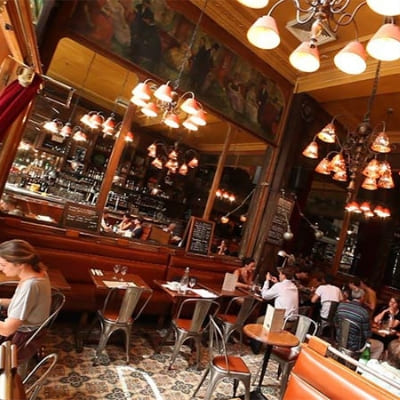 Image credit: Cafe Charbon
Come to Cafe Charbon if you want to spend a quiet afternoon or start an evening on the ever-bustling Oberkampf. There is a particularly good selection of wines and the typically French food is satisfying, apart from that desserts are also available on offer. The whole space has a slight boho vibe with stylish vintage decor, red leather banquettes, huge ceilings, friendly staff, and cheap drinks. DJ booth is elevated above the crowd and electro, pop and funk tunes keep the locals happy. It has remained a hotspot for more than a century which is why locals come to this restaurant-bar all week long.
109 Rue Oberkampf, 75011 Paris
Website: Cafe Charbon
+33 1 43 57 55 13
---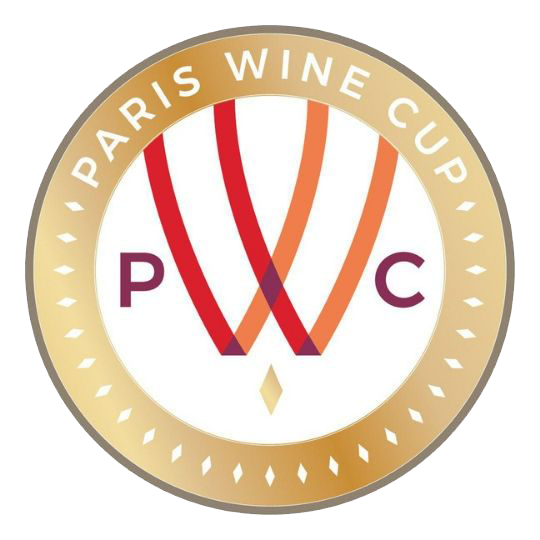 Paris Wine Cup will be assessed and judged by a leading panel of top-level wine buyers with current direct commercial buying responsibility. Or wine consultants and experts who are also directly involved in the development of new wine brands or buying wine for commercial resale.
Put your wines in front of them and get rated by Value, Quality, and Package.
Deadline For Submission Is Approaching Fast.
Leading wine brands from around the world now have an opportunity to grow their business and gain the attention of wine buyers, wine directors and influencers globally via the Beverage Trade Network Community.
Submit your wines in the Paris Wine Cup.