Celebrated Winemaker, Stephane Apelbaum On The Secrets Behind Making Great Wine
15/03/2022
Wine consultant and winemaker Stephane Apelbaum transitioned from a career in Journalism and Political science before establishing his roots in the wine industry.

Born into a family of entrepreneurs, Stéphane began his career in the United States, then moved to Switzerland before becoming a winemaker and wine consultant at Chateau de Haux. He is also CEO of Optimum Vineyard, a wine producers group in the Entre-Deux-Mers region of France. Since then, he has managed various wineries for 25 years and owns a vineyard in Saint Emilion.
Tell us about yourself.
I have been a winemaker in Saint Emilion for 25 years. I moved here in 1980 when my father bought a vineyard. Before taking over the family business, I decided to enroll in the "Master of Wine Estate Management" at Bordeaux Sciences. In 2010, I was first asked to do some technical audits for the potential investors in Bordeaux. To reassure the investors, I launched a company called Optimum Vineyard -Management and Consulting Company, and I have a team of six people with me in this company.
[[relatedPurchasesItems-45]]
Can you tell us more about Optimum Vineyard?
We shortlist and select the vineyards for the investors to invest in. Sometimes the investors invest in prestigious estates and ask us to manage the vineyard or conduct a vineyard audit. For example, at Château de Haux, we first came to audit the sales figures. They were concerned about the wines already sold, but they had trouble understanding the statistics. Then, the owners of Chateau de Haux asked us to manage the entire winery. Depending on the winery's size, we can handle the winery with or without staff. We can also make a technical analysis of the vineyard to bring in a maximum and quality harvest. We own about 7 to 8 wineries in the Bordeaux area.
Since you have a family history in wine, did you always want to be a wine expert?
Not at all; I studied journalism and political science in the US. When I came back to Europe - to Switzerland - my father was a wine merchant, and I tried to work with him. I discovered that I was French only in the US! The Americans were much more interested in my culture than I was at the time, so I started to discover the food, wine, and culture in Europe. My father bought a winery in Saint-Emilion and asked me if I would be interested in it. So I came to Bordeaux and began to discover. I loved my job and working in wine, but I didn't always want to be a wine expert.
What challenges do you face as a winemaker when representing Bordeaux wines to the world?
Well, it is always a challenge to produce wine while meeting the quality of Bordeaux and, ultimately, our customers. Unfortunately, wine production is becoming more and more difficult these days, with climate change significantly impacting wine production. In addition, we produce a wine that has a higher alcohol content than most other wines in the region.
At Chateau Haux, it is possible to buy shares or be named co-owner. Can you explain this part of the business? What is it exactly?
It's a pretty American way of doing business. When a customer wants to buy a bottle of Chateau Haux, a shareholder company in Denmark gives them the right to purchase wine and come to Chateau Haux and stay in the wineries. Where they can last for a week or two in seven different locations in Bordeaux, that's why we structure Châteaux as a family business. This way, shareholders can feel connected to the chateau and the bottles of wine they buy, and once a year, we invite them to stay at the property and learn about wine culture in France.
More information about shareholding -Click here.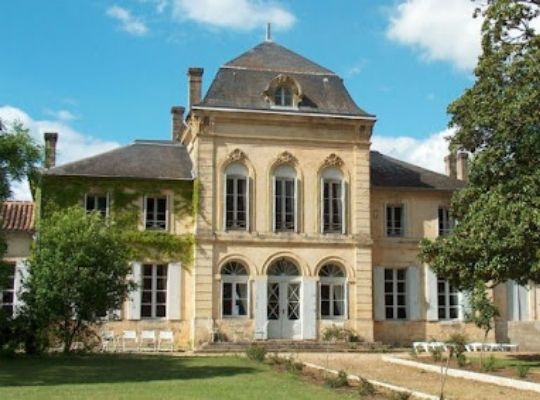 Château de Haux, Bordeaux.
What advice would you offer to someone considering this career?
I wouldn't advise young people to become winemakers if they don't know what style of wine is for which market and how much it will cost. Today's challenge is finding a market that will give the right price for your product. The wine industry is quite specific. It's always easy to produce wine somehow, but marketing wine is becoming more complex.
So my advice is to learn winemaking and wine techniques, but it's best to start with wine marketing and then think about what kind of wine you want to produce for the market you want.
Which countries do you sell your wine in? And what are the new markets you want to unlock?
We sell wine in Sweden, Norway, and Denmark.
We are looking at the United States, China, and India as potential markets.
Here you can buy wine from Chateau de Haux.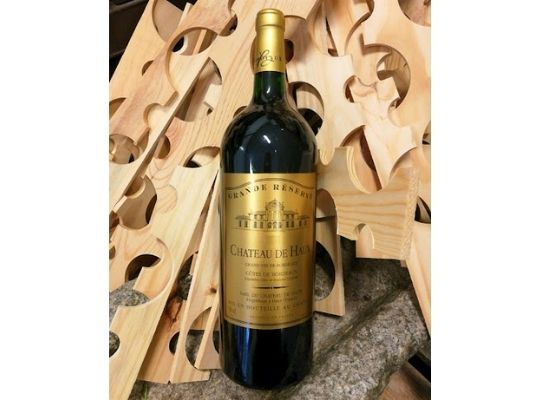 Chateau Haux - Grande Reserve.
How do you plan to develop Chateau Haux in the future?
From the beginning, we are trying to transform the vineyard and get it back on track. The strategy is to eliminate diseased vines in the fields or uproot all the plots with low planting density and plant new vines for the next ten years.
What is the best part of your job?
The end of the harvest! (smiles).
Yes, the satisfaction of the harvest is the best part.
Which are your favorite food and wine pairing?
Red wines go exceptionally well with meat. But also with some fish, if the wine is young.
And Port wine with chocolates.
Interviewed by Bhairavi Pore, Consultant, Beverage Trade Network.