2017 HFE Bio Syrah Gets The Best Wine From United States
14/07/2020
A solid gold medal scored by the 2017 Hedges Family Estate Bio Syrah with a total of 91 points.

2017 HFE Bio Syrah scored a solid gold and 91 points at the Paris Wine Cup that was organized by Beverage Trade Network in the first week of July 2020. It was also the highest scoring wine from United States.
Gorgeous dark purple color. The nose has spice, earth, smoke and fruit. This wine shows all the great characteristics of a Red Mountain Syrah. The palate is a nice mix of pomegranate, huckleberry, blueberry and tart candy. There is a meaty, chocolate component that adds to the complexity of aromatics. Soft and tart on the entry, the wine almost fools you into thinking this is a light wine, but the full bodied mid-palate and long spicy finish create a rich elegance.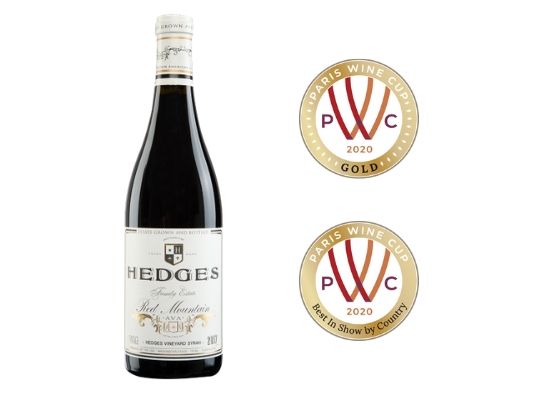 Production notes
Grapes are from the Hedges Estate Biodynamic vineyard. Harvested and crushed into bins where they underwent indigenous yeast fermentation. After pressing, the wine was aged in barrel where it underwent indigenous malolactic fermentation. The wine aged 56% new oak, 65% French and 35% American for 22 months before bottling.
This wine is lovely now but, like other Red Mountain wines, should age well, probably peaking in 10 years, but still very drinkable at 15+ years old.
Led by a passion for authenticity and a deep connection to the land they call home, the Hedges Family epitomizes the modern wine estate. A blend of rich cultural upbringings and a shared love for creating beautiful wine converge at the heart of bucolic Red Mountain, fostering a true homegrown approach to farming and viticulture. Hedges Family Estate unites past and present, evolving tradition for generations to come.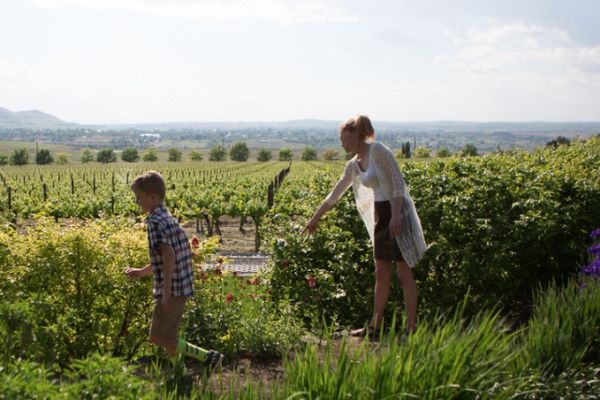 The unique geography of Red Mountain speaks volumes. The language of this distinct land translates to viticulture with the same character and complexity of the grapes themselves. We consider our collection of wines a collaboration between people and place; a true expression of origin and the unified culture of farm and family.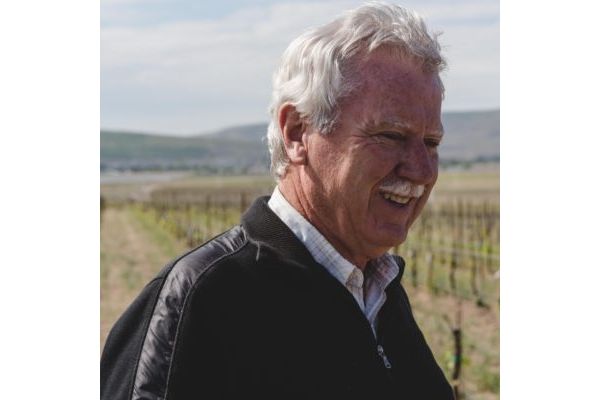 Tom Hedges, OWNER
It was Tom Hedges' contact in the produce export market that "planted the seeds" for Hedges Cellars. Tom was asked to produce a Washington State table wine for sale in Sweden. A winery was born. The first two vintages (1987 and 1988) of Hedges Cellars Cabernet-Merlot were sold exclusively in Sweden. Today, four different wines including the 1997 vintage of Cabernet-Merlot are sold in 45 states and 15 foreign countries. Hedges Cellars is being hailed as one of the country's "Great Red Meritage Producers."
Tom Hedges led a career in International Marketing focusing on food commodities. He was employed by Castle & Cooke foods from 1976-1982 heading up offices in Buenos Aires, Pennsylvania, Arizona, and Vancouver, Canada. Next, he worked for Pandol Bros., a small dutch trading company in Seattle, importing Chilean produce and exporting fruit to the Far East and India. In 1984 Tom served as President and CEO of McCain Produce Co. in New Brunswick, Canada farming potatoes for export.
Tom met his French wife, Anne-Marie, in Guadalajara, Mexico at the Autonoma University of Guadalajara in 1975. Together they have raised two children.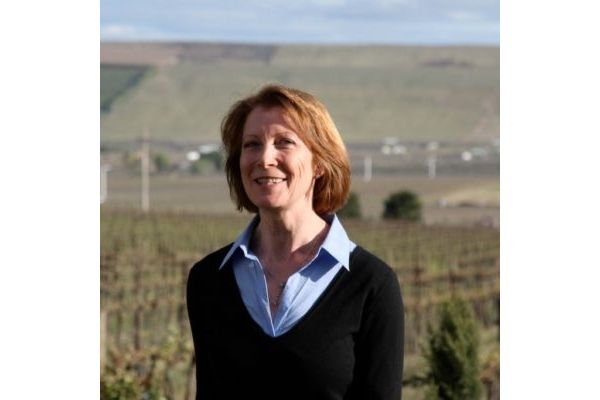 Anne-Marie Hedges, OWNER
From an early age Anne-Marie had a sense for adventure. Growing up with stories about the second world war, tales of the French resistance and visits from a British soldier saved by her grandfather from being captured by the enemy, it is no wonder that she wanted to see the world.
After high school, she attended college in England, Germany and Mexico. It was in Mexico that she met her future husband—Tom Hedges. They were married in 1976 in Champagne, France in a 12th century church. The international challenge had begun…
Accent in hand, she adapted to new food but still loved a good coq-au-vin. She tried her beer but her taste for good wine was too strong. Her grandfather, Marcel Dupont, Chevalier du Tastevin, had made sure of that.
Tom's work in international trade resulted in 11 moves for the family in 10 years—from the west coast of the United States to the east. From the west coast of Canada to the east, from warm Arizona where son Christophe was born to exotic Buenos Aires where daughter Sarah was born. Finally in 1986 Anne-Marie and Tom settled in Washington state to start Hedges Cellars.
Anne-Marie stayed behind closed doors doing bookkeeping and sales support while Tom looked for banks and customers. The transition from Finishing School in Paris in 1976 to performing an accounting role in the States was a bit of a stretch. Anne-Marie decided to go back to school and graduated with an AA degree in accounting.
Anne marie still handles some of the vineyard accounting and numerous other administrative tasks necessary for a small business owner. She is active in various non-profit organizations in the state of Washington. Anne-Marie is also a willing ambassador for Hedges Family Estate, the Red Mountain AVA and the Washington state wine industry. Her accent is still there, her french sense of style never left, her food preference is still old world but her taste for wine is distinctly American—Hedges Red Mountain. Naturellement!
About Paris Wine Cup
The Paris Wine Cup aims to recognize, reward and promote wine brands that have successfully been created to identify with and target a specific wine drinker. For any wine brand to earn its place on a retailer's shelf or a restaurant's wine list - and then vitally stay there - they need to be marketable and consumer driven and not just produced in the general hope it can find enough people willing to sell and buy it.
That is why the Paris Wine Cup is different. It will single out and shine the spotlight on those wine brands that consumers really want to buy and have a clear market value for trade buyers.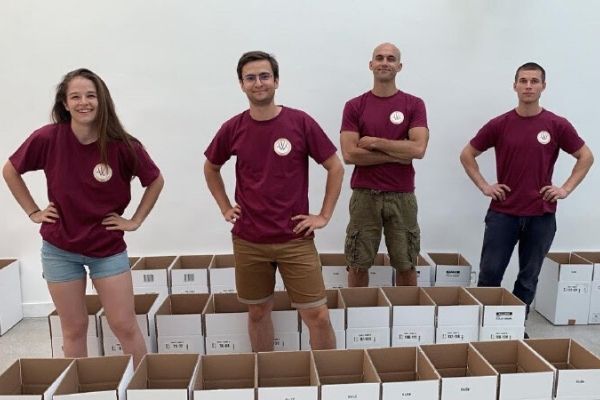 The competition follows strict rules concerning its organization, criteria, Judging, and Results.
A competition that will judge wines in three key areas:
Their quality.
Their value for money.
What they look like.
To be an award winner you will need to have a top quality wine, that offers both the trade and the consumer great value for money, and you will need to look good and truly stand out on the shelf and on the back bar.
---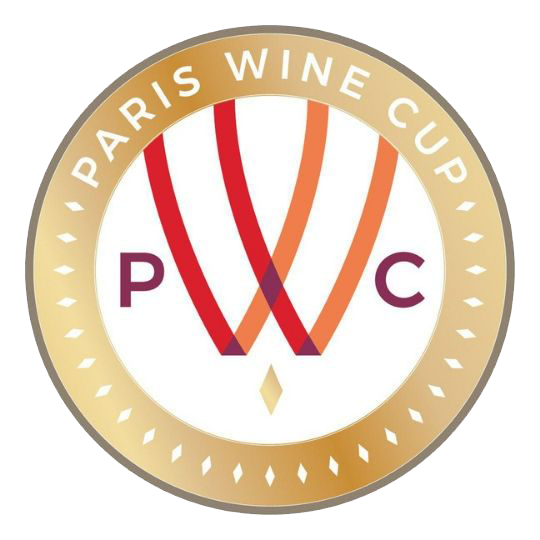 Paris Wine Cup will be assessed and judged by a leading panel of top-level wine buyers with current direct commercial buying responsibility. Or wine consultants and experts who are also directly involved in the development of new wine brands or buying wine for commercial resale.
Put your wines in front of them and get rated by Value, Quality, and Package.
Deadline For Submission Is Approaching Fast.
Leading wine brands from around the world now have an opportunity to grow their business and gain the attention of wine buyers, wine directors and influencers globally via the Beverage Trade Network Community.
Submit your wines in the 2021 Paris Wine Cup.