The Hidden Gems: Underrated French Wine Regions and Their Wines
20/10/2021
This article looks at 4 underrated French wine regions that don't get the fame and press but deserve all the recognition in the world.

The French have been making wine since the 6th Century BC and have dominated the wine industry ever since. Regions like Bordeaux, Burgundy, Champagne, Rhone instantly come to mind when we talk about renowned French wine-making regions. But, is that all there is to French wines? Absolutely not!
[[relatedPurchasesItems-45]]
There lie many undiscovered and overlooked wine regions that showcase excellent quality and value with their indigenous grapes and unique wine styles. We've identified 4 such extraordinary wine regions that deserve more recognition and appreciation.
Jura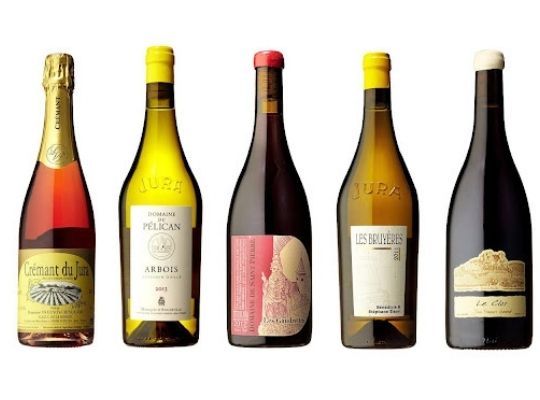 Source: WSJ Website
Jura, France's trending pioneer in sustainable viticulture and natural wine; is a tiny region nestled between the Swiss border and the world-famous French region of Burgundy. The region's landscape is characterized by planes, lakes, and the limestone Jura mountains from which the Jurassic period borrows its name. Jura's extraordinary soil of limestone, clay, and stone coupled with its unique varietals produce extremely diverse and distinctive wines.
Jura is the smallest wine region in France with only 500 producers spread across 80 km of vineyards and covering 4 AOC'S. Ancient- traditional viticulture and wine-making practices are common here with 15% of the vineyards already certified organic.
Five grape varieties are grown in Jura: Chardonnay, Savagnin, Poulsard, Trousseau, and Pinot Noir. The reds can be described as fresh, fruity, and fragrant wines, Trousseau expresses itself splendidly after oak maturation, while Poulsard and Pinot Noir are both fruity, light varieties that are best consumed young. Some Pinot Noir's can add a peppery flavor to the profile. The crisp and refined whites of Jura can have lovely floral and citrus fruit aromas, the addition of Savagnin with Chardonnay can add relishing notes of hazelnuts and almonds. The most quintessential and celebrated wine from Jura is its Vin Jaune (yellow wine) made from Savagnin that can taste similar to Sherry with its unique profile of honey, nuts, curry, and rose petals.
Wines to try :
Cahors

Le vin noir, 'black wine' is said to have been on the wedding table of Eleanor of Aquitaine and Henry II, King of England. Source: French Residential Website
Malbec is one of the most popular grapes in the world. We often associate Argentina with this grape variety as it is the main producer of Malbec but what if I told you that the grape was first planted by the Romans in a rural region in the South West of France called Cahors.
The southwest of France is an extremely underrated region, filled with dramatic landscapes and unique grape varieties, it has often been overlooked by Bordeaux's prominence. It has always been challenging for producers in this remote region to get their unfamiliar and old-fashioned wines international recognition but given the growing popularity of Argentinian Malbecs, it seems the tide is turning.
A wine from Cahors must be 70% Malbec (also called Auxerrois or Côt), with Merlot (that adds fruit and alcohol) and Tannat (for tannin and structure) also allowed. Malbec offers distinct flavors of leather, tobacco, apples, and plums, and its creamy oak that make it a perfect pairing for regional dishes too.
Once famed by English and French Royals, this region has now shifted its focus to lower-yielding viticulture to compete with the rest of the world and reclaim Malbec as its very own.
Wines to try :
Languedoc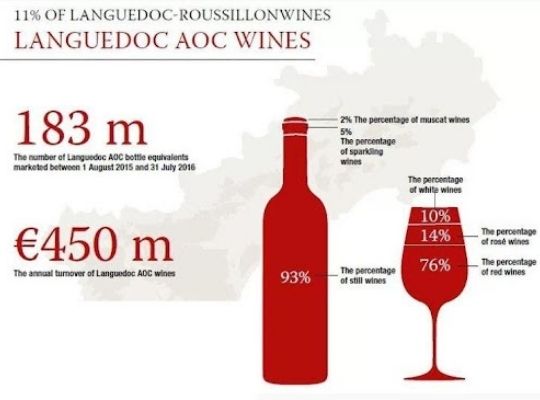 Languedoc accounts for 40% of France's total exported wines. Source: Social Vignerons
Languedoc is the largest wine region by landmass in France, as well as the single largest wine-producing region by volume in the world. With the amount of wine being produced here, prices are competitive which has unfortunately suggested the idea that low prices result in low-quality wine. This, however, is far from the truth.
Languedoc producers have been making wines for many generations, many quality producers have shifted to old vines, organic and low-yielding techniques to extract quality fruit. The new age wines of Languedoc are able to retain freshness and show a sense of their terroir in a region known more for its quantity than quality. The soil's in Languedoc by many top vignerons is considered the best in France and even the world, their quality can also be attributed to the use of lesser-known yet fantastic grapes: Carignan and Cinsault. Both grapes thrive in the hot Mediterranean climate, Carignan in particular is a deep purple wine that has intense tannins, jammy, and bramble fruit flavors and a texture similar to syrup.
Cinsault is popularly used in Rose production but can add elegant fragrant notes and lightness in blends.
Languedoc also produces the Grenache-Syrah-Carignan "GSC" red blend which is its own take on the popular Grenache-Syrah-Mourvedre "GSM" blend from the Rhone region. This yields a softer, fruitier, and more perfumed wine that could mentally transport you to an ethereal place.
Wines to try :
Corsica

Source : kimkim.com
There's more to this beautiful island than its white-sand beaches and spectacular mountains. Independent and unique, this French region is closer to Italy than it is to France. What's interesting is even with influences from French and Italy, Corsica's wines have their own sense of individuality.
There is a multitude of regions that make Corsica special: it has a terroir like no other, the region receives more sunshine than any other French region. Additionally, mild winters and minimal rainfall steer away from the risk of frost and flooding creating long growing seasons ideal for excellent harvests. Thanks to its limited inhabitants and insularity, Corsica has managed to retain many natural elements of its own including its native grapes, flora, and fauna. There is something unique about all wines from Corsica and that is their outstanding aromatic quality. The wealth of herbs and plants that surround the vineyards add their own wild smells and elements to the aromatics and flavors of the wines.
Over 30 varieties can be used in production but The three leading grape varieties are Nielluccio, Sciacarello, and Vermentino.
A fascinating feature is that 50% of the wine production in Corsica is Rose (mainly made with Nielluccio and Sciacarello grapes, blended with small quantities of other varieties, both red and white Vermentino) that offer features of blood orange, melons, and other delightful flavors of cherry and river rocks.
Wines to try :
Prithvi Nagpal – Editor & Sommelier, Beverage Trade Network