Top Wine Importers of France Overseas Brands Can Work With
04/11/2020
Wine importation is a lucrative business in France. There are France-based wine importers foreign brands can work with to increase turnover rate.

Wine importation is increasingly becoming a new reality for the wine and gourmet industry in France.
France is one of the highest importers of wine in the world. According the 2019 statistics, France ranked 12 out of the 15 numbers of countries with the most imported wines. With $988.3 million (2.7%), France is one of Europe's fastest-growing wine markets.
The French wine sector – a vital interest to the French economy
France is famous for its exciting wine culture and heritage. In spite of the fierce competition from other established alcoholic beverages such as vodka, gin, and bear, France is the largest market destination for wine consumption in the entire world after Italy and the United States. The French market consumes more than 30 million of actual hectoliter of wine, which is approximately 14% of the global wine output. This makes France a leading and strategic destination for foreign investments. There is a lot of ample opportunity for foreign brands to work with the top wine importers of France for profit.
Below are some of the top wine importers of France that foreign wine brands can work with.
Best 5 Wine Importers in France
Carniato
Carniato is a renowned importer and distributor of wine from abroad into France. The company specializes in the importation of Italian wines and different forms of food products for the needs of professionals.
The company was created in 1955, and in its 7 decades of experience as an importer and distributor, Carniato has established itself as the leading importer and distributor of Italian wines and food products in France. Its qualified expertise has seen the company delivered 3000 variety of products to meet their customer's needs. All products are sourced directly from Carniato's 150 Italian partners.

Each year, Carniato delivers about 85000 orders across the entire regions of France. With 15 cellars owned and located in the North and South areas of Italy, Carniato is able to distribute 5 million bottles of wine annually.
The company is located at 6, Route de Stains, Bonneuil Sur Marne
Arte del Vino
Arte del Vino is another French company that specializes in the selection, importation and distribution within France the best of Italian terroir wines sourced from the best vineyards in Italy.
The company partners with medium to small-size Italian winegrowers to deliver the best terroirs and their accompanying grape varieties for the intended use of professionals such as Caterers, CHR, Wine merchants and Delicatessen.

Arte del Vino was founded in September, 2015 and it has 55 different domains through which it distribute and deliver orders for Parisians and its suburbs within 48 hours. At the same time, other provinces within France get their orders within 72 hours.
Arte del Vino has more than 40,000 bottles in its inventory and has also outline selection qualities for producers intending to partner with the company. Christophe Gillon is the company's owner and is always ready to entertain new investment opportunities.
LES MAITRES CHAIS INTERNATIONAUX IMPORT/EXPORT
Les Maitres is into the importation of a wild range of different wines with superb value for money offering top quality from the best wine vineyards across the world. The company imports great white, red and rose wines from different nations of the world like from New Zealand, Australia, Europe and more. Whether you are looking for Syrah, Burgundy, or Chardonnay, or Bordeaux, this importer has it all set and ready for distribution.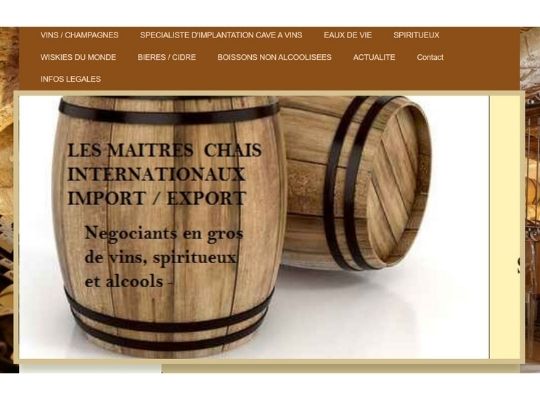 Les Maitres also offers extensive catalogue of port type wines, making it a favorite company for brands from different countries to do businesses together.
Henry Eric is an expert in wines, and he is the founder Les Maitres Chais. He is a lover of French wines, but also committed to exposing people to the tasteful experience of other wines and spirits from across the world.
Vins Du Monde
Committed to breaking the French habit of over-reliance on French wines, Vins du Monde is one of France major importers of foreign wines. It has an extensive catalog of Italian, Australian and other continental wines in its inventory.

More than 800 references and close to 200 wines brands makes up the imported wine catalog of the company.
Guided by the winery brain of Mathias Wulkow, and his partner, Francoise, the company brings its wealth of excellent wine collections to the people of France, and for visitors, as well as for other local distributors to enhance a larger market.
Paul Sapin
Here is one company that is overwhelmingly committed to providing the best wines from around the world, even it means traveling thousands of miles to get them. Paul Sapin was formed by two brothers Paul Sapin and Lucien, in 1889. It has since grown from selling family grown wines to importing internationally acclaimed wines to compliment the French taste.

Paul Sapin has a strong knowledge of the English and Irish markets, importing from and exporting to both markets to triple productivity and income. Wines from Australia, South Africa, New Zealand, Italy, Spain, the U.S and from Central Chile make up the global wine catalog of Paul Sapin.
With its employee base rising from 2 to 70 workers, Paul Sapin is breaking many grounds in the areas of wine packaging, design, sales, and customized services, with millions of bottles sold in and out of France.
---
For now, that is our list of top best wine importers of France. Bookmark this page to keep up with additional companies that will be making the list soon. We provide you with reliable information regarding the best wine importers of France so you never get to worry about buying quality wine.
And if you are a wine importer, distributor or merchant that wants to get listed, contact us and let us give your business the popularity it deserves.
Wants to suggest additional names? Feel free to send in your suggestion or leave a comment below. We are happy to entertain contributions that would ensure we all enjoy the brightest side of quality wines.
2021 Submissions Are Closed.