The Ultimate Guide to France's Burgundy Wine Region
09/09/2022
Burgundy, or "Bourgogne" as it should be called, is one of the most well-known wine regions in France it is a charming and lovely wine country that should be explored by professionals and enthusiasts alike.

Burgundy, or "Bourgogne" as it should be called, is one of the best-known wine regions in France. It's a charming and lovely wine country that should be explored by professionals and enthusiasts alike. By sharing wine education with you, I hope to show how traveling allows for a much more immersive experience. It's not just about the culture and food, but also about understanding how they're all connected.
This region is located east of the country and is known for its world-famous Pinot Noir and Chardonnay wines. There's so much to see and do in Bourgogne, from sampling local wines and walking through the vineyards to exploring medieval villages and tasting delicious regional cuisine. Whether you want to plan a trip or simply appreciate the region from afar, this guide has all the information you need!
Let's begin with the basics of the Bourgogne Wine Region. . .
[[relatedPurchasesItems-45]]
There are two major grape varieties used in wines produced in Burgundy: Pinot Noir and Chardonnay, although there are others, such as Aligoté, Pinot Gris, Gamay, and Sauvignon Blanc. For Bourgogne Rouge, however, the primary emphasis is on Pinot Noir while for Bourgogne Blanc it's on Chardonnay.
The Burgundian vigneron (winemaker) believes that the region is not only the original home of these grapes, but also the terroir that best expresses their authentic character – elegant, manifold, and complex. In order to understand and appreciate wine on a deeper level, it is essential to understand the concept of terroir. Bourgogne is the best place to do just that.
There is a sacred connection between the earth, climate, human hand, and tradition.
Image: Pinot Noir, Chardonnay Wines, and Limestone, Clay, and Marl soils found in Burgundy
The major sub-regions of Bourgogne from North to South are:
- Chablis
- Côte de Nuits
- Côte de Beaune
- Côte Chalonnaise
- Mâconnais
200 million years ago, the region was part of a massive tropical sea. The seabed transformed over time into limestone soils. These soils give Burgundy wines their hallmark minerality. If you explore the vineyards, you will discover limestone, clay, and marl (limestone combined with clay) that include stunning fossilized marine creatures. This makes up the geological composition of Bourgogne.
The classification of Bourgogne wines is based on the Appellation d'origine contrôlée (AOC) system. The AOC was established in 1935 and is one of the oldest systems of wine classification in the world. It is designed to protect the reputation of regional wines and ensure that they are made according to traditional methods.
Bourgogne wines are classified into four categories:
- Grand cru
- Premier cru
- Village wines
- Regional wines
The Grand cru and Premier cru represent the highest quality levels and can only be used to describe wines from specific vineyards. The names of the vineyards are usually included on the wine label. For example, a Grand cru wine from the Clos de Vougeot vineyard would be labeled as "Clos de Vougeot Grand Cru".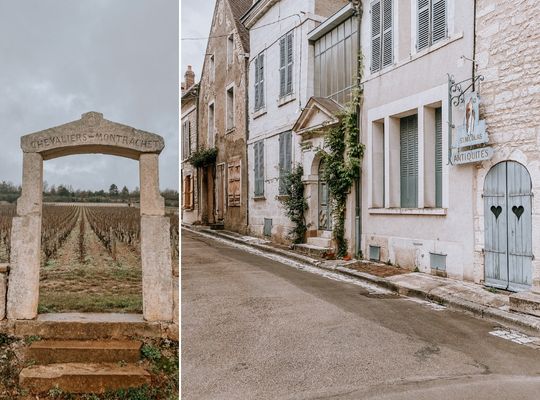 Image: Grand cru wine from the Clos de Vougeot vineyard and Chablis region
Village wines are named after the village in which the grapes were grown. The label will mention the name of the village, such as Pommard or Meursault. Regional wines are said to be of the lowest quality category and can be made from grapes grown anywhere in the Burgundy region. I want to take this opportunity to delve a little deeper with you. You can find some absolute gems that are labeled as Bourgogne regional. So, repeat after me: "No two producers are alike". It is important to remember that even though there may be a certain reputation associated with a particular wine-producing region, the winemaking skills involved ultimately shape the final product.
Now that we know the basics, it's time to get to the good stuff and travel to Bourgogne! So pull out your suitcase and let's get packing!
How to get there?
By car: You can drive to Burgundy from Paris (about a three-hour drive) or Lyon (a two to three-hour drive).
By train: Trains from Paris Gare de Lyon take about two and a half hours with a quick change in Dijon. There is also a regional TER train that will take you from Gare Bercy directly to Beaune from Paris, a longer but more scenic option.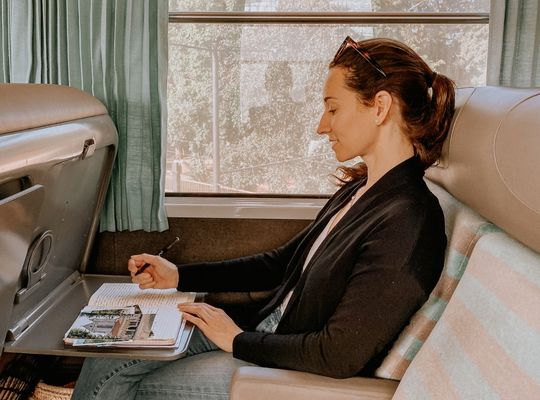 Image: Emily Lester on a way to Burgundy
Where to stay?
It is best to base yourself in the village of Beaune. It is the epicenter of wine country and has a medieval hospital, Hotel Dieu, that is now a museum. The train station is a 10-min walk to the central village downtown area. There are many wine cellars and chateaus open to the public for tours and tastings in the center of town.
Our Tops Picks for Accommodation
- Le Home: Once a historic winery and large family home, it has since been transformed into an elegant-style manor house. The boutique hotel has twenty individually designed guest rooms all with their own sophisticated character and style. Some rooms transform you back into the Parisian belle epoque. Antique night tables, fabric headboards, and mahogany chairs all conjure up images of Henri de Toulouse Lautrec's bordello paintings.
- L'Imprimerie: L'Imprimerie, a former printing factory transformed into a boho chic urban refuge guest house founded by Marie and Sebastien. The guest house has an eclectic design that merges industrial, vintage, and urban loft aesthetics. It also offers a co-working area and a canteen.
- La Source: 30 minutes from Beaune, the Source Bourgogne is a peaceful and private writers' haven with all of the amenities of home and carefully selected regional details that set it apart.
- Clos des Ursulines: A 16th-century chateau located in the Burgundy vineyards that have just been newly renovated and opened for bookings this year. Be one of the first to have an unforgettable experience in this magical setting.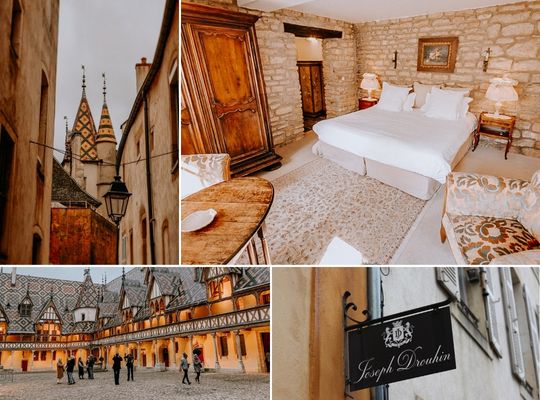 Image: Hotels in Burgundy
Wine Tastings in Bourgogne
The region offers many opportunities to go wine tasting, whether that means visiting the cellars of individual producers, going on group tours, or joining a wine-tasting course. In recent years, the area has made great strides in terms of tourism accessibility. For quite some time it was very closed off from outsiders and felt uninviting. However, I'm glad to say that is no longer an issue! Some of the most popular producers are large negociants (traders). Their cellars are located in Beaune so you don't need to rent a car to access them. They also have established tourism programs which means they are accustomed to welcoming international visitors with more open hours.
- Joseph Drouhin is one of the oldest and largest. It's an easy 3-minute walk from the Hôtel-Dieu which makes visiting very convenient! The tour includes a visit to the underground caves and a once-in-a-lifetime opportunity to see an ancient Roman Wall. @https://www.instagram.com/maisonjosephdrouhin/
- Patriarche Père et Fils is the second oldest wine estate in Burgundy. They offer tastings of several Bourgogne appellations and a tour of their historic cellars. This self-guided candle-lit cellar tour is a crowd-pleaser.
- Bouchard Père et Fils is a must. This French négociant has been producing wines for over five centuries and offers a wide range of Bourgogne wines to taste. If you're new to the region's wines, this is a great place to start.
- Château Pommard: If you're looking for a luxurious wine experience in Burgundy, Chateau Pommard is the perfect place for you. Pommard is one of the most beautiful villages in the Cote d'Or where you can enjoy a personalized tasting or group tour at a recently restored chateau.
Look no further if you're searching for a unique experience that will take you away from the typical tourist destinations.
Le Caveau à Auxey: a concept developed by François MOREY whose family has cultivated vines in the village for centuries. He offers tastings in both French and English by appointment. Wines can be purchased and shipped back to the USA.
Chateau de la Cree: located in the heart of Santenay along the Route de Grand Cru. This is a perfect choice for a picnic and wine-tasting experience away from the crowds. Uniquely, the estate also produces wines in Oregon. Visits provide the experience of tasting American and French wines side by side.
Forin Loic is the grandson of a winegrower. Following in his footsteps, this artisan winemaker produced his first vintage in 2017 and they have been improving year upon year. I had the pleasure of having a tasting with him in the shared cellars of Château de Bligny.
Wine Education
A private course and guided viticulture tour with Nicolas Fouilleroux, DipWSET is perfect for experienced professionals or academics looking to get the most out of their Bourgogne experience. Taught in French, English, or German, this education-focused tour is recommended for WSET 2 students and above.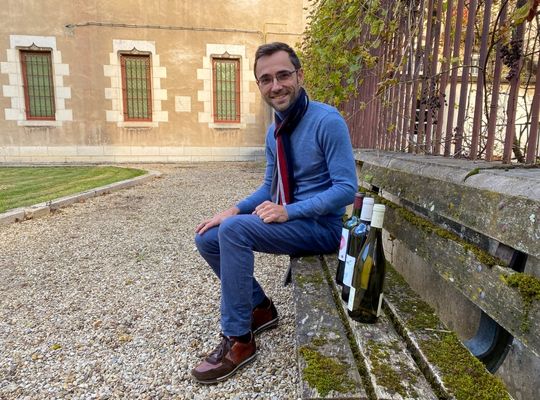 Image: Nicolas Fouilleroux, DipWSET
Must See Sites
- Dijon: The capital of Bourgogne-Franche-Comté and the historical capital of the Duchy of Burgundy, this charming medieval city will not disappoint. Dijon is home to many exquisite buildings and monuments such as the Palace of the Dukes of Burgundy and Notre Dame Cathedral. You can access Dijon in 20 by train from Beaune.
- Beaune Center: A picturesque town with cobblestone streets, local shops, and a Saturday market. Beaune is known for its annual Wine Auction in November to benefit the Hôtel-Dieu, a former hospital turned Museum. The Hospices de Beaune is a must-see for any history lover or wine enthusiast.
- Clos de Vougeot: Located just outside of the village of Vougeot, Clos de Vougeot is the largest single vineyard in Burgundy. Visitors can tour the cellars of the Château du Clos de Vougeot, which is the only château located within the vineyard.
- Romanee Conti Vineyard: The most famous vineyard in Burgundy, and possibly the world. Located in the village of Vosne-Romanée, this vineyard is home to some of the most sought-after wines including Romanée-Conti, one of the most expensive wines in the world.
- Pernand-Vergelesses: For breathtaking views of Burgundy vineyards, head to Pernand-Vergelesses and take in the panoramic vistas. This is a great spot for photos and picnics.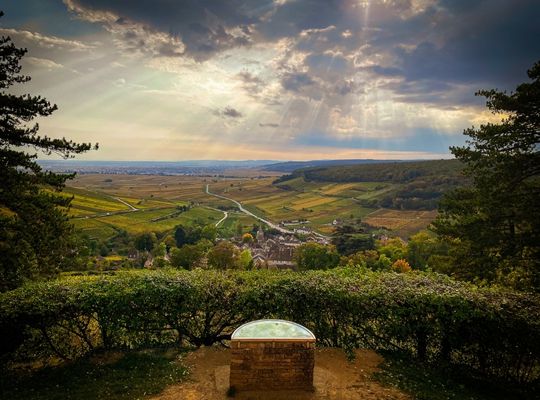 Image: Pernand-Vergelesses
Gifts
The region is known for its gastronomy, so be sure to bring home some of the local specialties such as mustard, ham, and Bourgogne snails.
If you're looking for books on wine, history, or travel, then head to the athenaeum bookshop in Beaune. You'll find an incredible selection of titles that are impossible to find anywhere else. It's a true scholar's dream!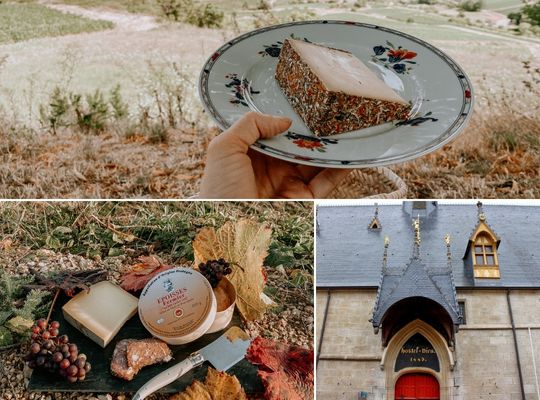 Image: Vineyard Cheese
Cheese
Epoisses de Bourgogne is a soft, cows' milk cheese that is washed in Marc de Bourgogne (a local spirit), and it's perfect for cheese lovers. Stop by Hess fromagerie in Beaune to taste.
If you're curious about trying different cheeses, head over to the Ferme du Colombier run by Nathalie and Benoit Nauwynck. They create delicious Fromage blanc, cream, and other dishes at the Cote d'Or! The farm has a shop with a self-service room where you can help yourself to whatever cheese and cream you want. You can then drop the cash or check in the letter box. So it's all based on trust! Their boutique shop for other local artisans features items such as eggs, goat cheese, flour, wine, and pâtés. They are based near Arnay le Duc—a lovely sleepy town outside of the wine region with at least 3 nice places to eat worth trying. A real local experience!
There are many ways to enjoy the Burgundy region, whether you're a wine lover, history buff, or foodie. I hope this guide has whetted your appetite for all that this beautiful region has to offer!
Cheers! Or, as we say here in France, Santé!
Emily Lester aka Paris Wine Girl.