2020 Christmas Special: Must-Try Chardonnays
17/12/2020
Choosing the right bottles of wine to pair with your Christmas meal now made easier with this curated list of award-winning wines.

What is Christmas without a little sparkle, secret Santa, a wonderful meal, loved ones, and a glass of some delicious wine! Christmas is a perfect excuse to open up some delicious 'vin de table.'
If you're planning a feast for the whole family or planning for a low-key celebration, choosing the right bottles of wine to pair with your Christmas meal is an important part of creating the perfect holiday experience. We bring a list of mouthwatering Chardonnays specially curated by our #Pariswinecup2020 judges.
Cuvee Prestige
Produced by Szigeti Sektkellerei, Austria, Cuvee Prestige comes with 12% ABV. The grape varieties included in Cuvee Prestige are Chardonnay, Pinot Blanc, Blaufränkisch. Cuvee Prestige has a bouquet of stone fruit, blackberries, and wild strawberries. This wine is harmonious, full-body, wild strawberries on the palate, ripe and caramel. It is perfect with an aperitif and meal companion.
For Szigeti Sektkellerei's "house cuveé", their cellar master combines three distinctive grape varieties to create a unique taste experience - just like in the production of champagne.
Cuvee Prestige: Gold Medal Winner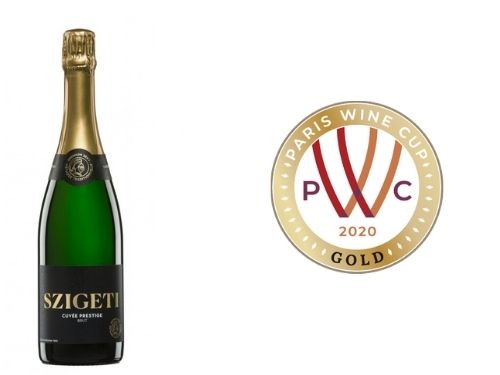 Meursault
2017 Meursault by Château de Pommard (Famille Carabello-Baum) shows intense aromas of fresh yellow flowers, chamomile, lemon, and pear, along with hints of wet stones. The palate confirms these notes and reveals flavors of butter, cream, vanilla, and lemon zest. The body is full, with a generous, creamy texture on the palate. Made for gastronomy, 2017 Meursault has a salivating long finish and good aging potential.
Meursault's soils are rich with limestone deposits, a perfect fit for an aromatic and balanced Chardonnay with long aging potential. Famous since the Middle Ages, the appellation carries a solid reputation for high-quality, generous yet very subtle white wines around the world.
[[relatedPurchasesItems-45]]

"Perhaps Nature's sign that she appreciates our efforts is the increased presence of wildlife among the vines. Producing better tasting wines and preserving the world all of us depend upon is a powerful idea whose time has come" MICHAEL BAUM - CEO & PROPRIÉTAIRE.
2017 Meursault: Gold medal, "Best In Show By Regions Of France," and "Best In Show By Varietal" Winner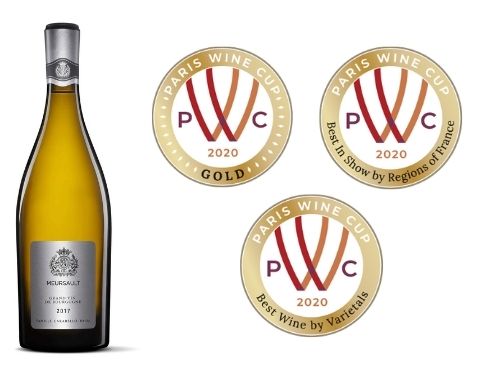 Corps ET Esprit
Corps ET Esprit is 100% made with Chardonnay by Champagne Pointillart Leroy. Corps et esprit has a luminous hue, which is pale yellow in color with silver-yellow highlights. The first nose is light and reveals iodized breezes, perfumes of acacia, and fruity notes of lemon and blanched almond. Then, it expresses itself into a pastry registry with notes of fresh rose, yellow grapefruit, and touches of white peach. In the palate, the bubbles are supple and fresh. It develops a fruity and pulpy structure supported by vibrant lemon acidity. You will find again some cleanness in the middle palate guided by the sandy soil minerality that brings the wine a subtle saltiness, a crumbly texture, and a long-lasting mouth. The whole is elegant and balances a mellow finish which is only spiced by a lemon-iodine duo that reminds the freshness of our terroir.
WINE AND FOOD PAIRING - "Fines de Claire'' oysters - Crab meat and basil espuma - Salmon gravlax - Poached bass and champagne sauce made with brown butter - Lobster tail roasted with lemon butter
Corps ET Esprit: Silver Medal Winner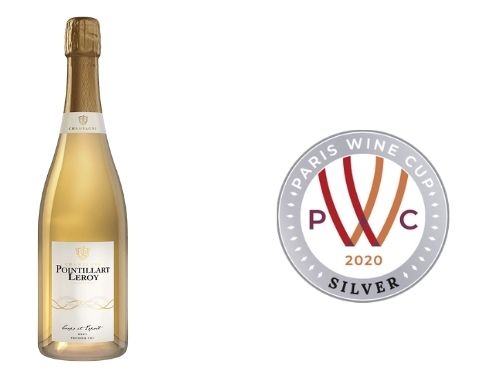 Ladoix Premier Cru "Les Gréchons"
Ladoix Premier Cru "Les Gréchons" by Famille Carabello-Baum presents intense aromas of frangipani flowers, lemon, and ripe pear alongside notes of ripe pineapple, vanilla, and honey. The palate reflects these flavors and displays hints of honeysuckle and yellow peaches. Generous and perfectly balanced, this complex wine can be appreciated from now, even though it will take a few years to reach its apogee.

"Les Gréchons" is one of the highest plots positioned on the steep sides of the Hill of Corton, where you once could find ancient quarries. Steep sedimentary, fossil-rich soils produce an intense and mineral Chardonnay enjoyable today, but also ageable for years.
Ladoix Premier Cru "Les Gréchons": Silver Medal Winner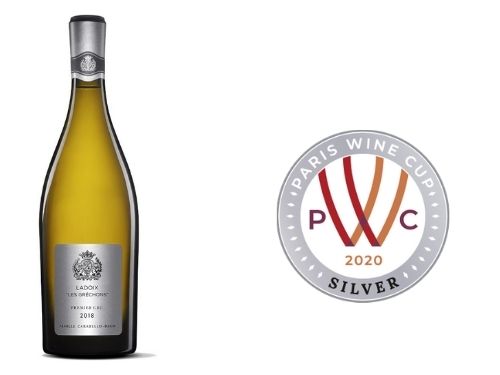 Blanc de Blancs
Produced in Austria by Szigeti Sektkellerei, Blanc de Blancs has an ABV of 13.5%. It contains Chardonnay grapes. Blanc de Blancs comes with sades of peach, ripe, and lightly roasted hazelnuts. Dry on the palate with balanced acidity and hints of fresh brioche. A classic Blanc de Blancs which, like its French counterparts, is made from 100% Chardonnay grapes and matures on the lees for at least 18 months.
Blanc de Blancs is recommended with crustaceans, and also meat dishes.
Blanc de Blancs: Silver Medal Winner