The Expert's Voice - Into The Sommelier World At COYA Paris
01/02/2021
In conversation with Anastasia Zamaraeva, Head Sommelier At COYA Paris.

Anastasia Zamaraeva, born in Saint-Petersburg, Russia started her career as an accountant in a bank. After 2 years, she realized that she is not meant for an office job. That is when she decided to start traveling. And that changed her life completely! Read Anastasia's Sommelier journey in her own words as she gets candid with the Paris Wine Cup in this exclusive interview.
Tell us about yourself.
My name is Anastasia Zamaraeva. I'm 30 years old and I'm a Sommelier.
I was born in Saint-Petersburg, Russia and by first education, I am an accountant. After spending 2 years in a bank, I understood that an office job is not my cup of tea so I decided to change my life and start to travel. It was quite a big step for me to quit my "prestigious" job and go to the US with a summer student program but I never regretted it. I'm coming from a modest family and I had to find a job to finance my traveling so I started to work in a restaurant as a waitress. What a change! And how comfortable I felt myself there, what amazing people I've met who with time become my dear friends. I fell in love with the restaurant industry directly and this love is still strong.
Developing and growing in my field made me interested in wine. Soon it became a real passion. So I left the restaurant for a while to do my sommelier school and to work in a wine shop. The world of wine pushed the boundaries of mine till their limits! I was learning like crazy the 1855 Bordeaux classification, peculiarities of the production of port and sherry, and unpronounceable Austrian wine regions. After my graduation, I decided to unite my two passions-wine and traveling and started to look for work abroad. After 2 months of silence, though I've been sending my CVs every day all around the world, I had an answer from Dubai. Two Skype interviews, one month to prepare the paperwork and I am in UAE. To understand the size of my luck I have to say that I've been accepted at the position of Junior Sommelier at La Petite Maison. This restaurant is the epitome of service and hospitality! The three years I spent there was the best schooling for me. I learned a lot and evolved rapidly. The most impressive was to see how people are buying and drinking wines which I have only read about before. I still remember how my hands were shaking when I served my first bottle of Chateau Margaux :)
Three years passed quickly and the next chapter for me was France. When I announced that I'm moving soon the sister restaurant COYA proposed to me the job in a new soon opening restaurant in Monaco which I gladly accepted. That was the best job of my life! The team, the vibe, the place-all created a truly unique atmosphere and unforgettable experience for me. The only flaw was that the job was seasonal which wasn't good enough to apply for the working visa so I couldn't stay for the next year. Luckily for me after such a great success in Monaco COYA, they decided to extend to Paris and offered me a job. Of course, I said yes! Long visa process, almost half a year of waiting and voila-I'm at the capital of France. Paris welcomed me quite unfriendly with bad weather and transport strike but put forward the opportunity for me to show the initiative and to help the new restaurant with all experience I've got through the years of working in hospitality. Now I can proudly speak about the sommelier team I lead despite the difficult moments we passed.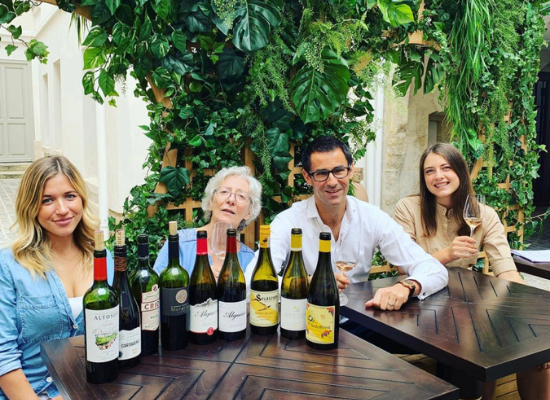 Anastasia captured at a wine tasting.
Tell us about your day to day work and role.
My day-to-day work is pretty usual and I don't think it's very different from my colleagues. It's a balance between service on a floor and paperwork with suppliers. Of course, from time to time we are organizing the wine tastings in order to find new interesting references, to try the new products. Also with my team, we are often taking advantage of living in France and visiting vineyards. That is the best learning process!
As a Head Sommelier, my main role is to make our customers feel welcomed, heard and to provide the best possible service. I mentioned "heard" because, in my opinion, it is very important to try to meet people's expectations. One person likes the attention, the other one wishes to stay discreet, someone likes to serve himself, someone prefers top-class service, and so on. Working with multinational customers taught me to adapt quickly and do my maximum to find the best way to satisfy our clients even if sometimes I had to serve the grand cru Chablis in a teacup pretending it's a camomile tea.
[[relatedPurchasesItems-45]]
The other very important thing is to be a good leader for my team and a person you can rely on for our management crew.
I'm spending a lot of my personal time improving my leadership skills and to study psychology so I can create a comfortable climate and friendly environment in the Sommelier department.
How was the world before covid-19 for you and what has changed now?
Obviously, the global pandemic changed our lives enormously. Before we had more freedom which was given to us more joy in life. Losing the ability to move unhindered put a cross on most of the travelings and made it difficult to simply meet with our friends and family.
However, Covid-19 showed some things from the perspective and highlight something which we were taking for granted. We started to take better care of our health and our hygiene. When we were at home during the lockdown we had a lot of time to spend just with ourselves. I believe it helped us to understand better our needs, improve our psychological health and analyze what we really want. Many of my friends and colleagues spent some quality time with their family, did some studies online and some even mastered a new profession and radically changed their lives.
What has been the hardest part to manage in lockdown and during covid, Are there any lessons you can draw from what you have been through?
During the first lockdown in France, I was very careful and very respectful about the rules. I'm not saying that I'm breaking them now but before I could stay almost a week at home and was going outside only for quick groceries. Personally, I was struggling with an inability to move a lot, and after working in a busy restaurant, the change was massive. Long story short, I think I took around 7kg during that time! Fortunately, they left as fast as they came after we reopened COYA.
Another thing that we didn't foresee was the wine fridges. We didn't know for how long we would be closed so we left them working. At some point, we had a power surge which caused the incorrect settings for one of our fridges with red wines and as a result, we lost around 10 good bottles including one Solaia. Well, we learned from our mistakes.
What do you think will be the key factors in growing back your lost revenue?
The moment we reopen our doors we should be 100% ready. No 86s, no understaffed, no other service mistakes. The restaurant should be performing like it never close in order to provide our customers what they missed the most-great atmosphere and great food and drinks without any delay.
Marketing is also very important. We need to inform our clients that we are ready to welcome them again and we are a safe environment respecting hygiene protocols.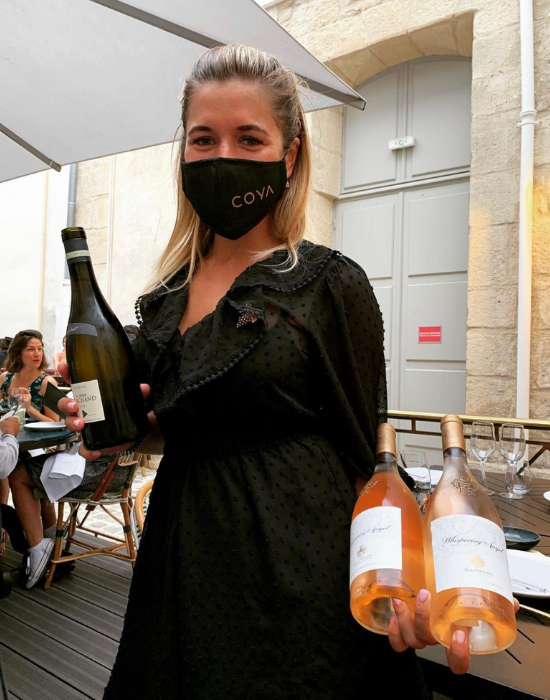 Anastasia showcasing wine bottles at COYA post-covid-19.
Have you seen changes in consumer behavior in the wines they are drinking now?
After the first lockdown we noticed that customers were not ready to spend on wine as they used to do before, they became more careful. Also in summer 2020, we had very poor amount of tourists in Paris, and less "special occasion" spends.
We are a Peruvian restaurant with good South American wine selection and we remarked that people don't want to spend money on French wines that they know "by heart" so they started to be very curious about Argentinian and Chilean references. The sommelier inside me was very happy! Our customers were open to try something new and listen with pleasure to stories about previously unfamiliar regions.
How do you buy wine for your restaurant?
Putting the new wine on our menu is always a collective choice. We often invite our suppliers to a restaurant so we can test their new products. After choosing the bottles we like the team is making a decision.
What defines a good sommelier?
A good sommelier is a person who shares his passion for wine with the customers, lighting up the fire in their eyes and generate desire for the particular bottle. He is creating the memories.
Tips for Sommeliers to increase restaurant sales.
Study your wine list, try to find an interesting story about some bottles, fun facts, odd traditions, or which celebrity is this favorite wine? Knowledge is power!
How to design a good wine menu?
It requires a good balance between your sommelier ambitions, popular people taste, and commercial products