10 Biggest Wine Regions of France
09/11/2020
France being one of the world's great tourist attraction countries, she's also blessed with renowned wine regions spread across the country.

Wine they say is synonymous with joy, wealth and celebration of life. "Give me books, French wine, fruit, fine weather and a little music played out of doors by somebody I do not know". Unlike other drinks, wine has the ability to imbue its consumer with pleasure by the senses of sight, smell, touch and lastly taste. It's experienced from the moment you see it poured in the glass, through the moment its volatile aromas stimulate olfaction, while it caresses or darts across your tongue, until well after the moment you swallow it, with its lingering flavour and mouthfeel. Wine makes every meal an occasion with the table more elegant, classic and more civilized.
[[relatedPurchasesItems-45]]
France being one of the world's great tourist attraction countries, she's also blessed with renowned wine regions spread across the country. Each region is identified with specific varieties of wine, with traditions dating back to centuries. Whether it's the beautiful chateaux of Loirvisitors, the prestigious Champagne houses in Champagne or Bordeaux, visiting any of France's wine regions is an unforgettable experience. Below are the country's biggest wine regions.
10 Biggest Wine Regions of France
Burgundy
Burgundy is the south-east of Paris. Its 360 kilometres journey from Lyon. The vineyards are in villages strung along a narrow valley.
Burgundy is a beautiful and peaceful region of France and also a home to some of the most expensive wines in the known universe, yes tasty and affordable wines. It has many grape wine varieties which are in abundances such as Chardonnay and Pinot Noir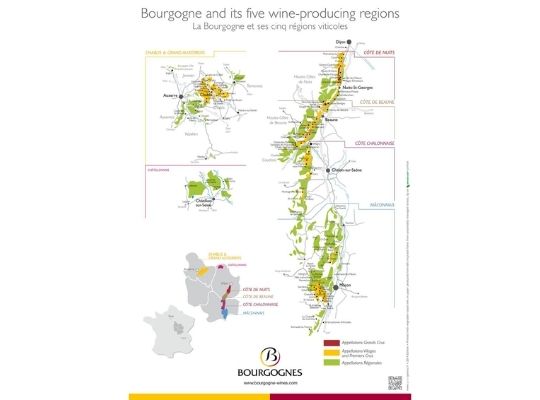 Bordeaux
Bordeaux is a leading destination for wine lovers, as well as the bedrock of the fine wine market and a benchmark for winemakers around the globe. The region's vineyard is centred on the port city of Bordeaux, mapped along the estuary of the Gironde, and the rivers Garonne and Dordogne.
Next to Burgundy, Bordeaux is probably the second well-known wine region of France. Bordeaux Wine Official Classification of 1855 was one of the most noted historical events in Bordeaux which was as a result of the 1855 Exposition Universelle de Paris. Emperor Napoleon III wanted a classification system to display the best wines to visitors.
Rhône Valley
The Rhône Valley is over 200 km from medieval castles. Rhône Valley is a region with over 600 years of historical background. There are two wine regions of Rhône Valley - the northern part produces only 5% of the total wine production and the southern part 95%.
Rhône Valley is famous for its wines such as the crisp red wines of Châteauneuf du Pape. The vineyards can be found along the riverside and as well as in the mountains.
Champagne
To have a taste of the real Champagne, I'm talking about good French sparkling wine, we journey to Northern France. The towns of Reims (Rheims) and Epernay have major vineyard of best quality wine production in France.
In memorial of Champagne region of France; it's an outstanding quality of vintage and non-vintage champagne. Produced from the best grapes depends on the expertise and skillful blenders, the end product is quality sparkly wines The irresistible Moët & Chandon, Taittinger and host of others like Krug, Mumm, Bollinger and Heidsieck they're all numero uno.
Don't forget, "In victory, you deserve a champagne? In defeat you need it."
Provence
Imagine your next trip to Provence. Charming hilltop villages, terraced vineyards, rocky hillsides, lavender meadows and alfresco cafés. Another beautiful historical province of the south-east of France, this France wine region is known for the sizeable wine-producing pink rosé wines like famous Côtes de Provence and Côteaux d'Aix.
Some red wine varieties are also produced in Provence, full-flavoured Mourvedres and Grenaches. The area around Cassis is known for good amount of quality white wines, namely Clairette, Marsanne and Sauvignon Blanc.
Alsace
Way to the Alsace vineyard is via the Vosges Mountains. Alsace wine or Alsatian is known for its unique production of fruity white wines. Alsace is the only Appellation d'Origine Contrôlée region in France to produce mostly varietal wines, typically from similar grape varieties to those used in German wine due to its Germanic influence.
Alsace being located on the border of Germany and France made the area a tug-of-war for centuries between France and Germany. Today if you visit Alsace, you can see how the interventions of two mega empires affected the area through the presence of both French and German languages, and its architecture.
Alsace's food and wine is also a bit of a mish mash. For instance, German grape varieties like Gewurztraminer and Riesling dominate the French départment, but in Alsace they are produced in a different style entirely.
Loire Valley
Loire Valley is one of France's fairytale wine regions, filled with beautiful chateaux and renowned vineyards which are estimated 7,000 of 70,000 hectares. The Loire wine region is situated along the Loire River, running east to west, and it's divided into three sections: Upper Loire (Sancerre and Pouilly-Fumé made with Sauvignon Blanc grapes), Middle Loire (Chenin Blanc and Cabernet Franc) and Lower Loire (Muscadet region)
The Loire has nearly 30 AOC (Appellelation d'Origine Contrôlee, or controlled designation of origin), which includes a variety of sparkly, rosé, red, white, and dessert wines. Pinot Noir and Cabernet Franc are two of the well-known wines that come out of Loire Valley.
Languedoc-Roussillon
Located in the south of France, Languedoc-Roussillon is another France wine region next to Provence, and extending to the border of the Pyrénées Mountains. Popular wines like Minervois, Corbières, Coteaux du Languedoc, Saint Chinian, and more are appellations from Languedoc-Roussillon, one of France biggest wine regions.
Rich and full-bodied reds from Saint Chinian and Corbieres, Banyuls known for its sweet red wines, and light and dry rosés flourishes in Languedoc-Roussillon.
Languedoc-Roussillon has become one of the most dynamic in the country having reinvented itself in the recent years by shifting its production focus to wines of high quality.
Cahors
Located in the southwest of France, Cahors is considered the birthplace of Malbec, and sometimes referred to as the "Black Wine." It was granted its own Appellation d'Origine Contrôlée status in 1971; however, it means that under AOC rules, at least 70% of the wine must be made with Malbec which is known locally as "Auxerrois" or "Côt" to qualify for status.
Cahors is known for its elaborate municipal gardens, the Pont Valentré, a medieval bridge with 3 towers and most especially deep red wines. In the middle ages, the reputation of Cahors Malbec was so strong that it was exported worldwide and was served at many Palace dinners.
Bergerac
The historical wine region of Bergerac is in the southwest of France. Bergerac is the capital of Périgord-Rojo. It's admired for its half-timbered houses and charming banks of the Dordogne. Great of taste quality wine is inexhaustible in Bergerac.
Visiting any of these regions is one of the most delightful ways to spend a holiday in France - and we don't just mean for the wine! France is home to some of the world's most breathtaking vineyards and renowned wineries that make up for a relaxing getaway, just a short hop from the UK.